The 2013 Cambridge Candidate Pages are now at http://vote.cambridgecivic.com
Background:
Thank you for taking the time to review my candidate page. My name is Marc McGovern and I was born and raised in Cambridge. I am the father of four children, the fifth generation of my family to live in Cambridge. My oldest son will be a freshman at CRLS in September 2011, my next oldest son will be a 5th grader at the King Open, and I have one-year-old twins, who will be in the Cambridge Public Schools in a few years.
In addition to growing up in Cambridge, graduating from the Cambridge Public Schools and having current and future children in the District, I also have well over 20 years of experience volunteering with Cambridge children. Over the years I have volunteered in classrooms at the Tobin, Cambridgeport, and Baldwin schools. I helped start the Peer Mediation Program at the King, King Open and then Fletcher school. I was a Cambridge Youth Soccer coach for several years and have been the president of Central Division Little Baseball League for the past four years. I have also been a member of the Cambridge Kids' Council. My work on behalf of Cambridge children and in the Cambridge schools started long before I had children of my own and will continue long after they are grown.
Professionally, I hold a Master's Degree in Social Work and have over 15 years of experience working with special needs children. I have worked with school districts across Massachusetts and I am the only School Committee member who currently works in a school, giving me valuable experience to bring to the Committee.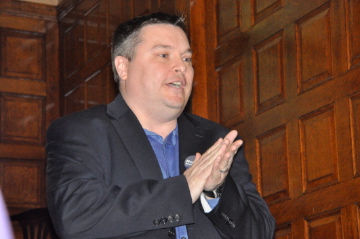 Politically, I have served on the School Committee for three terms, twice elected Vice-Chair by my colleagues. While on the Committee I have been the leading voice on issues such as special education, early childhood education and creating schools that are physically and emotionally safe. I have called for greater budget transparency so that citizens have a better understanding of how their tax dollars are being spent. I am currently the co-chair, along with Marjorie Decker of the City Council, of the Mayor's Blue Ribbon Commission on Early Childhood Education and Care. Along with Councilor Decker and others from the early childhood community, this commission will be making recommendations to both the City Council and School Committee on how to improve and expand quality, early childhood experiences for children.
At this pivotal time in the history of the Cambridge Public Schools, when we are undertaking what may be the most significant restructuring of our District, I believe, and I hope you do as well, that my personal, professional and political experience is of value to the children of Cambridge. There is only one way for me to return to the School Committee to work on your behalf, and that is with your #1 vote. Thank you again for taking the time to learn more about me, and I hope to have earned your #1 vote on November 8th.
Top Priorities:
Innovation Agenda: Ensure that the Innovation Agenda is implemented successfully. With the passing of the Innovation Agenda on March 15, 2011, our District is undertaking a major change in structure and philosophy. Although this change comes with questions and concerns, it also comes with great promise and high expectations. For the next term, my priority will be to ensure that all of our schools and all of our students receive the benefits and improvements promised in the IA.
Academic Achievement: My vision for CPS is that all children, regardless of academic ability, will achieve their full potential and graduate from Cambridge Public Schools with the skills they need to be successful in whatever is their next step in life. Additionally as a district, we must ensure that all children, whether they are above, at, or below grade level, are challenged and respected in the classroom.
Early Childhood Education: Research is clear and undeniable: the first years in a child's life are vitally important to the child's future academic performance. As the Co-Chair of the Blue Ribbon Commission on Early Childhood Education and Care with City Councilor Marjorie Decker, I have worked to expand and improve the quality, affordability and accessibility of early childhood programs. If re-elected, I will continue to work with both the school administration and the city to ensure that Cambridge prioritizes early childhood education. This includes dropping the district's kindergarten entry age to include all 4 year olds.
School Department Administration and Superintendent:
At this pivotal time in our district's history, it is critical that the Administration, Superintendent and School Committee work collaboratively. For the District to improve and for IA to succeed, we must foster a working environment that is respectful, cooperative and creates a shared vision. Dr. Young was brought to Cambridge due to his past successes leading other high achieving school systems. While recognizing that the Superintendent is the educational leader of the District, the School Committee must provide oversight, represent community interests and ensure that practices put in place move our district toward one where every child is successful.
School Department Budget and Capital Needs:
A primary responsibility of the School Committee is budget oversight. During my time on the Committee, I have stood up for greater budget transparency. In these challenging fiscal times, we must clearly understand how and why our money is being spent to ensure that we are funding programs, practices and personnel that support the District vision of success for all children. One of our district goals is to evaluate programs to ensure they are achieving their stated goals and fulfilling their promises to our children. I will continue to support this evaluation as a way to ensure that we are spending our dollars on programs that work.
The renovation of CRLS was money well spent. As our only public high school, our students deserve and need a state-of-the-art facility, and now they have one. Student's at CRLS now have modern science labs and art rooms, a renovated theater, and improved computer labs. Our building is more energy efficient, with healthier ventilation systems. Combined with the renovated War Memorial and Field House, the Main Library and the Media Arts Center, our high school students have a campus that would make many colleges jealous.
The district's only surplus building is the building on Broadway. The district needs to maintain this building as "swing space" for the upcoming renovations of our elementary school buildings.
The Innovation Agenda:
If successfully implemented, the Innovation Agenda will transform the Cambridge Public Schools into a district where every child receives an equitable social and academic experience at the middle school level. I know the strengths and value of the K-8 model as student and a parent. Both my sons and I grew up attending K-8 school in Cambridge. However, after studying our district as a whole, I concluded that we needed a different model to meet the educational needs of significant numbers of children. Our K-8 system does not have a shared vision, shared expectations, or a shared understanding of what students should know when they enter high school. Rather, we have 12 different, independent schools, which all do some things well, but not all things well. We have pockets of excellence. In our desire to offer so much choice, we created an uncoordinated system that results in a child's education being vastly different from school to school.
The IA calls for the creation of 4 small upper grade schools. What schools teach will be coordinated but not how they choose to teach. Students will learn similar skills and materials, and "Habits of Scholarship" but teachers will have the creativity and support to continue to teach in the way that best reaches their students. This will maintain the individual strengths of the schools and ensure all 8th graders enter the high school on more equal footing, something we simply cannot say today.
As we move forward, we must ensure that the administration hears from teachers and parents. These voices need to considered and taken into account when developing the upper schools. While we are focusing on the upper schools, we must ensure that we pay attention to the K-5 schools that will be created and how we are preparing our students for upper school.
Although the IA has caused some degree of angst and loss in our schools, I firmly believe that it will lead this District to a better place and that it will enhance the academic and social experience of all students.
Controlled Choice, Student Assignment Policies, and the "Achievement Gap":
Controlled Choice is the foundation of our District. When first created, Controlled Choice's main goal was to ensure our schools were diverse across the district. Over the years, however, policy decisions and changes undermined that vision. Our schools are no more diverse now then before its implementation. There are changes we can implement to make the policy more "user friendly", to fix some inconsistencies, and to better communicate with families. However, we need to address Controlled Choice in a more thoughtful/meaningful process. We need to fully examine our priorities, to engage the larger community and re-work the policy to achieve our stated goal.
The Achievement Gap can also be called the "Opportunity Gap". Research has shown that children with greater opportunities, which include early childhood education, health care, nutrition, and parental involvement, tend to do better in school. Children who do not have these opportunities tend to have a more difficult time in school. The school department and the city must work more collaboratively regarding early childhood education, after school opportunities, and summer activities and programs to ensure that every child in Cambridge has the chance to receive high quality support.
Enrichment Programs:
Children spend approximately 6 hours a day in school and another 8 hours sleeping. This leaves 10 hours each school day for other activities. The Cambridge Public Schools and the City must provide enrichment programs and opportunities for children during that time that support both education and physical fitness. We must harness our city's tremendous financial and personnel resources, so that children have creative, fun, and enriching high-quality opportunities that let them try out new skills and deepen their interests.
In our schools, I have always supported art, music, drama, foreign language and other programs that are important to helping to develop well-rounded, insightful, students. I will continue to support these programs if re-elected.
At the high school, we offer College Prep, Honors and AP classes. These classes lack diversity. Although CRLS does not have formal "tracking", classes throughout the school are segregated. This cannot continue. We must find ways to those support students who might not choose an honors or AP class, either by offering more assistance in the classroom, a tutoring center or other initiatives that will allow more children to take advantage of these more rigorous classes. We must find ways to offer higher-level opportunities to more students and to increase the educational challenge for students at every level.
Enrollment and the Marketing of Public Schools vs. Charter Schools and Private Schools:
I understand why some parents choose charter or private school for their children. I do not begrudge any parent doing what they feel they must to support their child's future. I look at these choices as a challenge for CPS to improve and to create an environment where more parents feel that their child's needs will be met in the public schools. Our enrollment has been steadily climbing, most notably in the high school. This includes many students who come from private and charter schools. This indicates families are feeling more confident in CRLS. Now, we need to build confidence in our lower grades.
CPS must also examine how we share our story and celebrate our successes. We must do a better job reaching out to the community, particularly to families who have made other choices and listen to why they did not choose CPS, and to families within the District who have concerns about the education that their children are receiving. If we listen to these concerns as constructive criticism, we can better evaluate and improve our district for all families.
Elementary Schools and Curriculum:
With the implementation of the Innovation Agenda in September 2012, our district will have twelve K-5 schools and four 6-8 schools. We must find a balance between allowing our schools to be unique and have their own identity, with the need for children, across the District, to learn the skills they need to be successful for high school and beyond. I support district wide benchmarks that set goals for each student in each grade; but I want teachers and principals to decide how they will reach those goals.
High School Programs and Curriculum:
I think the high school offers great opportunities for students. My concern, as stated above, is that there is not enough diversity at the various levels (CP, Honors, AP).
MCAS and Measuring Student Achievement:
Standardized tests have been around in education for as long as I can remember. When I was in school it was the Iowa Tests of Basic Skills and Stanford 9. Now it's the MCAS. The difference, and my main issue with MCAS, is that those other tests were meant for measurement purposes. They were not high-stakes test like MCAS. MCAS has forced many districts to lose sight of other important aspects of education since the punishments for not doing well on the MCAS are severe, for students, schools and districts. Now, MCAS is being added to teacher evaluations. My fear is this will push more teachers to "teach to the test" and to stop covering important material because it won't be tested.
In Cambridge, we try to balance the need to do well on MCAS with our desire to teach a well-rounded education. The result, however, is that our MCAS scores may not be as high as some other districts. But we must remember that MCAS alone do not tell the whole story of a student, teacher, school or district. There is so much more that goes into education that does not appear on the MCAS.
One of our District Goals has been to develop other measurements to determine how students are doing in school. We have implemented district wide assessments. My concern is that these assessments are not always implemented properly and not always shared with parents. We need to do a better job of obtaining important measures and data to drive instruction, so that teachers are able to pinpoint areas where students require additional support. The trick is how to do this without bogging down our teachers and having our students constantly being tested.
Teacher Evaluations, Performance Measures, Contract Negotiations:
The Cambridge Public Schools has made progress in our teacher evaluation tool, however, we need to continue to work on how these evaluations are conducted. Performance evaluations are difficult for the person conducting the evaluation, in this case, principals. They have a responsibility to conduct them honestly and to point out both strengths and weaknesses of teachers; however, they have working and personal relationships with the people they are evaluating. This can often complicate matters in any profession. Central Administration must work with principals to ensure that evaluations are being done properly so that high quality teachers can be kept and poor teachers can be replaced. There is nothing more important to the improvement of our school system than who is teaching our children. The District must hire the most qualified individuals, support them in their practice, provide them with guidance and resources, and then evaluate them appropriately.
As one of the two School Committee representatives on the last collective bargaining team, I took part in negotiating the current union contracts. I saw that our teachers (and other collective bargaining units) share the same goals for our students. There isn't a person in this district who doesn't want our children do achieve. We may not always agree on how to get there but we all want similar outcomes. It is vitally important that the District and the Cambridge Teachers Association continue to have a respectful and professional relationship. When we enter into the next round of negotiations, we need to work together toward our common goal.
School Safety and Student Behavior:
For over 15 years, I have been working with children. Throughout my time on the School Committee, school climate has been a cornerstone of my work. We must have schools where students, staff and parents feel physically and emotionally safe. I believe in making social-emotional learning part of our curriculum starting in Jr. K. and continuing it through high school. We are building welcoming and safe communities. We must support children who struggle with behavior issues, work with their families and identify the root causes of their behavior. Simply suspending children and bringing them back to school 5 days later without addressing why they were suspended, simply doesn't work. All of us: school committee members, teachers, parents, the administration, staff, and the students must work together to create communities where all feel that they are an important part of the school community. Then effective learning can take place.
Parent Involvement and School Councils:
I have always supported and will continue to support parent involvement and school councils. I have filed motions in support of having parents and school councils be involved in discussions and welcomed to address both the administration and School Committee. I am responsive to those in the community. I never shy away from conversation and maintain an open mind at all times.
---
---