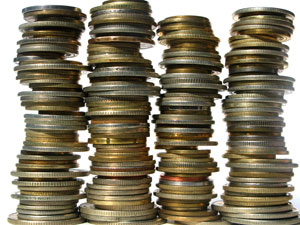 The Big Item is the arrival of the FY2016 Budget. In addition to that, here are a few of my favorite things....
Manager's Agenda #2. Transmitting communication from Richard C. Rossi, City Manager, relative to the reappointment of the following members of the Community Preservation Act Committee for 5-year terms: Ellen Shachter, Gerard Clark, Albe Simenas, Susan Schlesinger
All of these people reappointed by the City Manager are wonderful, community-oriented people well-suited to the CPA Committee. I only wish that all the great people serving on the City's Boards and Commissions got half the attention that the elected officials receive for all that they do for an annual stipend of $0.00.
Manager's Agenda #4. Transmitting communication from Richard C. Rossi, City Manager, relative to Awaiting Report Item Number 14-139, regarding a report on a feasibility study and subsequent action plan on instituting suffrage for immigrants in Cambridge.
At the risk of infuriating some people, let me reiterate my point of view on this: Citizenship = The Right to Vote. If an immigrant living in Cambridge wants to vote in any elections - federal, state, or local - the proper route is to become a U.S. citizen.
Manager's Agenda #5. Transmitting communication from Richard C. Rossi, City Manager, relative to Awaiting Report Item Number 14-130, regarding a report on whether preference points can legally be allotted to all city employees for affordable housing units.
Though we can all appreciate the desire that City employees should be able to afford housing in Cambridge, that same sentiment applies to everyone else who works here. Seriously, why should a City employee get preferential treatment when there are so many other deserving people seeking affordable housing in and around Cambridge?
Manager's Agenda #7. Transmitting communication from Richard C. Rossi, City Manager, relative to Awaiting Report Item Number 15-39, regarding a report on the Citywide Planning Process (Master Plan) including next steps and timeline. [Word][PDF]
I suppose this is progress. However, the more I think about this continuing quest for a Mystical Master Plan the more it seems as though we're just spending money on outside consultants to replicate the planning the City has already been doing for the last two decades. I'm sure a few good ideas will grow out of the process and I do hope that constructive people will participate, but I strongly suspect that when all is said in done those people who are perpetually dissatisfied will continue to be dissatisfied.
Manager's Agenda #9. Transmitting communication from Richard C. Rossi, City Manager, relative to the FY2016 submitted budget and appropriation orders. [attachment]
This is the best time of year to become a student of how the City really functions. Here's some comparative information of the adopted budgets by department and function in past years and in the newly submitted FY2016 Budget:
| | | | | | | | |
| --- | --- | --- | --- | --- | --- | --- | --- |
| GENERAL GOVERNMENT | FY05 adopted | FY14 adopted | FY15 adopted | FY16 submitted | 1 yr % change | 2 yr % change | 11 yr % change |
| Mayor | $430,035 | $558,785 | $589,680 | $586,635 | -0.5 | 5.0 | 36.4 |
| Executive | $1,353,140 | $2,008,150 | $2,298,685 | $2,356,150 | 2.5 | 17.3 | 74.1 |
| City Council | $975,570 | $1,683,125 | $1,711,115 | $1,789,700 | 4.6 | 6.3 | 83.5 |
| City Clerk | $720,925 | $1,119,765 | $1,240,705 | $1,123,935 | -9.4 | 0.4 | 55.9 |
| Law | $1,780,975 | $2,163,240 | $2,176,975 | $2,174,415 | -0.1 | 0.5 | 22.1 |
| Finance | $8,837,560 | $13,292,350 | $14,540,220 | $16,024,605 | 10.2 | 20.6 | 81.3 |
| Employee Benefits | $20,499,920 | $32,787,200 | $32,882,665 | $33,025,885 | 0.4 | 0.7 | 61.1 |
| General Services | $984,345 | $732,695 | $704,725 | $683,040 | -3.1 | -6.8 | -30.6 |
| Election Commission | $756,540 | $1,013,565 | $1,072,390 | $1,149,425 | 7.2 | 13.4 | 51.9 |
| Public Celebrations | $671,505 | $891,945 | $874,335 | $905,900 | 3.6 | 1.6 | 34.9 |
| Reserve | $37,500 | $37,500 | $37,500 | $37,500 | 0.0 | 0.0 | 0.0 |
| TOTAL | $37,048,015 | $56,288,320 | $58,128,995 | $59,857,190 | 3.0 | 6.3 | 61.6 |
| | | | | | | | |
| PUBLIC SAFETY | FY05 adopted | FY14 adopted | FY15 adopted | FY16 submitted | 1 yr % change | 2 yr % change | 11 yr % change |
| Animal Commission | $228,870 | $309,700 | $323,535 | $331,365 | 2.4 | 7.0 | 44.8 |
| Fire | $28,891,840 | $43,350,275 | $44,661,535 | $44,990,895 | 0.7 | 3.8 | 55.7 |
| Police | $31,515,220 | $47,186,015 | $49,260,625 | $50,646,165 | 2.8 | 7.3 | 60.7 |
| Traffic, Parking & Transportation | $8,175,095 | $10,935,015 | $11,088,415 | $11,483,870 | 3.6 | 5.0 | 40.5 |
| Police Review & Advisory Board | $77,210 | $73,440 | $75,235 | $77,435 | 2.9 | 5.4 | 0.3 |
| Inspectional Services | $2,261,215 | $3,180,045 | $3,270,335 | $3,414,450 | 4.4 | 7.4 | 51.0 |
| License Commission | $726,735 | $1,030,970 | $1,063,745 | $1,183,145 | 11.2 | 14.8 | 62.8 |
| Weights & Measures | $98,910 | $138,540 | $142,935 | $145,875 | 2.1 | 5.3 | 47.5 |
| Electrical | $2,239,640 | $2,840,910 | $2,767,880 | $2,594,885 | -6.3 | -8.7 | 15.9 |
| Emergency Management | $137,820 | - | - | | - | | - |
| Emergency Communications | $3,097,485 | $4,434,425 | $4,631,960 | $5,077,255 | 9.6 | 14.5 | 63.9 |
| TOTAL | $77,450,040 | $113,479,335 | $117,286,200 | $119,945,340 | 2.3 | 5.7 | 54.9 |
| | | | | | | | |
| COMMUNITY MAINT/DEV. | FY05 adopted | FY14 adopted | FY15 adopted | FY16 submitted | 1 yr % change | 2 yr % change | 11 yr % change |
| Public Works | $23,648,125 | $32,859,690 | $33,634,490 | $35,090,060 | 4.3 | 6.8 | 48.4 |
| Community Development | $4,472,620 | $5,676,340 | $6,335,440 | $7,359,590 | 16.2 | 29.7 | 64.5 |
| Historical Commission | $457,580 | $632,940 | $687,860 | $654,580 | -4.8 | 3.4 | 43.1 |
| Conservation Commission | $89,760 | $123,470 | $127,770 | $130,585 | 2.2 | 5.8 | 45.5 |
| Peace Commission | $76,215 | $143,940 | $148,445 | $151,510 | 2.1 | 5.3 | 98.8 |
| Cable T.V. | $999,500 | $1,474,795 | $1,452,495 | $1,536,585 | 5.8 | 4.2 | 53.7 |
| Debt Service | $23,917,070 | $49,716,250 | $50,446,035 | $54,664,525 | 8.4 | 10.0 | 128.6 |
| TOTAL | $53,660,870 | $90,627,425 | $92,832,535 | $99,587,435 | 7.3 | 9.9 | 85.6 |
| | | | | | | | |
| HUMAN RESOURCE/DEV. | FY05 adopted | FY14 adopted | FY15 adopted | FY16 submitted | 1 yr % change | 2 yr % change | 11 yr % change |
| Library | $5,461,430 | $8,946,395 | $9,249,325 | $9,723,990 | 5.1 | 8.7 | 78.0 |
| Human Services | $14,581,590 | $23,155,080 | $24,225,290 | $25,354,795 | 4.7 | 9.5 | 73.9 |
| Women's Commission | $155,860 | $233,115 | $241,295 | $246,425 | 2.1 | 5.7 | 58.1 |
| Human Rights Commission | $158,730 | $249,380 | $266,890 | $275,140 | 3.1 | 10.3 | 73.3 |
| Veterans | $510,885 | $1,005,375 | $1,092,655 | $1,123,070 | 2.8 | 11.7 | 119.8 |
| TOTAL | $20,868,495 | $33,589,345 | $35,075,455 | $36,723,420 | 4.7 | 9.3 | 76.0 |
| | | | | | | | |
| CITY TOTAL | $189,027,420 | $293,984,425 | $303,323,185 | $316,113,385 | 4.2 | 7.5 | 67.2 |
| | | | | | | | |
| EDUCATION | FY05 adopted | FY14 adopted | FY15 adopted | FY16 submitted | 1 yr % change | 2 yr % change | 11 yr % change |
| Schools Operating (TOTAL) | $122,053,195 | $150,989,445 | $156,669,635 | $163,940,420 | 4.6 | 8.6 | 34.3 |
| | | | | | | | |
| INTERGOVERNMENTAL | FY05 adopted | FY14 adopted | FY15 adopted | FY16 submitted | 1 yr % change | 2 yr % change | 11 yr % change |
| MWRA | $16,177,455 | $21,346,815 | $22,189,730 | $23,516,200 | 6.0 | 10.2 | 45.4 |
| Cherry Sheet Assessments | $11,569,960 | $20,126,950 | $21,504,975 | $21,336,755 | -0.8 | 6.0 | 84.4 |
| Cambridge Health Alliance | $6,500,000 | $6,500,000 | $6,750,000 | $7,000,000 | 3.7 | 7.7 | 7.7 |
| TOTAL | $34,247,415 | $47,973,765 | $50,444,705 | $51,852,955 | 2.8 | 8.1 | 51.4 |
| | | | | | | | |
| GRAND TOTALS | $345,328,030 | $492,947,635 | $510,437,525 | $531,906,760 | 4.2 | 7.9 | 54.0 |
| | | | | | | | |
| | FY05 adopted | FY14 adopted | FY15 adopted | FY16 submitted | 1 yr % change | 2 yr % change | 11 yr % change |
| WATER | $17,098,120 | $14,238,700 | $13,964,275 | $13,964,115 | 0.0 | -1.9 | -18.3 |
| PUBLIC INVESTMENT | $8,834,255 | $34,407,930 | $31,954,025 | $18,076,290 (*) | -43.4 | -47.5 | 104.6 |
(*) Does not include additional Public Investment Appropriation Orders for FY16 that require authorization to borrow funds.
---
Resolution #14. Recognition of the dedication of the Officer Sean Collier Memorial and gratitude to Officer Collier for his service and sacrifice. Councillor Toomey
Many of us who work at MIT and who had the pleasure of knowing Sean Collier will be at the dedication this Wed, Apr 29 at noon.
Resolution #17. Recognition to Sara Mae Berman for her accomplishments and for leading the way in women's sports and congratulations on her induction into the Distance Running Hall of Fame. Councillor McGovern
Congratulations to my neighbor and friend Sara Mae Berman. I would also give her an award for her rhubarb pies.
Resolution #32. Congratulations to the 2015 City of Cambridge Outstanding City Employee Awards. Mayor Maher
This year's recipients will be honored at a ceremony on Friday, May 1, 2015, at 9:30am, in the Sullivan Chamber at City Hall. The City Manager will also be presenting a special award in memory and honor of Assistant City Manager Brian Murphy to a person who is committed to making government improve the lives of others. I can think of many City employees who would be deserving of this award.
Order #6. Amendment by adding new Rule 31C regarding City Manager appointments to the Cambridge Housing Authority. Councillor Kelley
The City Council has the responsibility of approving appointments to only two Boards - the Cambridge Housing Authority and the Cambridge Redevelopment Authority. The intention of this Order is to establish a formal process for approving these appointments via review by standing City Council committees prior to being voted by the full City Council.
Order #7. That the City Manager is requested to confer with relevant City staff to: determine the existing capacity of the City to address excessive noise complaints; analyze past complaints to determine if there have been any trends in type, location, time or any other aspect of formal noise complaints and response actions in Cambridge; create a noise map focusing on existing noise from industrial, lab and office buildings and the impact of that noise on residential structures; review opportunities to provide noise measurement and enforcement capabilities and responsibilities within the Police Department, Inspectional Services, DPW and the Department of Public Health to provide comprehensive, 24/7 noise response capacity with Cambridge. Councillor Kelley and Councillor McGovern
This is a good initiative that I hope will eventually lead to some clarification in the Zoning Ordinance regarding compatible uses in districts with a mix of housing and potentially noisy other permitted uses, especially laboratories and manufacturing facilities. This is a topic that should probably be rolled into the upcoming Citywide Planning Process, a.k.a. Master Plan. Ideally there would be some acknowledgement of the fact that even if labs and residences can coexist in a mixed-use district, that might not extend to 24 hours a day and 7 days a week. The same goes for clubs, taverns, and any other use that extend into the night-time hours. Perhaps we need to create zoning based not just on location but also on time of day.
Order #9. That the City Manager is requested to confer with relevant City staff and report back to the City Council with suggested language for either a Home Rule petition or a change to general state law that requires all individuals involved in a collision, to include dooring, to give everyone else involved written contact information, not just to offer it. Councillor Kelley
Another good idea from the city councillor who has the most experience navigating Cambridge by bicycle. It's always best to exchange information even for a minor collision because it's often the case that you only discover damage or injury hours or even days after the altercation.
Committee Report #1. A communication was received from Paula Crane, Deputy City Clerk, transmitting a report from Councillor E. Denise Simmons, Chair of the Housing Committee for a public hearing held on Mar 19, 2015 to provide an update and continue discussion on the incentive zoning study from the Community Development Department.
The current recommendation is to increase the housing contribution from $4.58 to $10 to $12 per square foot and to make regular CPI adjustments in the future. Some activists would prefer that it be multiplied ten-fold, but it's always easy to say that when you're spending other people's money.
Committee Report #2. A communication was received from Donna P. Lopez, City Clerk, transmitting a report from Vice Mayor Dennis A. Benzan and Councillor Dennis J. Carlone, Co-Chairs of the Ordinance Committee, for a public hearing held on Apr 1, 2015 to continue discussions on the Normandy/Twining petition.
There's a good chance that this petition will be passed to a 2nd Reading at this meeting and be placed in the queue for ordination in a few weeks. The Planning Board will also be continuing their hearing on the petition the following day. I'm sure there will be a lot of public comment on this item, though I seriously doubt if there will be any new revelations. People are just digging in at this point and crafting their rhetoric as if this were a military matter. It's not. It's just about building a place where people can live. - Robert Winters
---
Catching Up on the Cambridge News (April 21, 2015)
---
---
---
---
---
---
---
---
To the members of the MIT community,
We write to tell you about exciting developments in MIT's Kendall Square and east campus design process, the planning study for west campus, and key steps we are taking regarding housing for our graduate and undergraduate students.
In pursuing these opportunities, we have benefited tremendously from five years of substantive input and analysis from the Cambridge and MIT communities. This has included an extensive public process, the Task Force on Community Engagement in 2030 Planning report, the Graduate Student Housing Working Group report, the East Campus/Kendall Gateway Urban Design Study with guidance of the East Campus Steering Committee, and key leadership from the School of Architecture and Planning. We will continue this path of engagement, ensuring significant faculty and student involvement in the working groups discussed below. We are also creating opportunities for the community to offer input to the process in the coming months.
Next steps in the design process for Kendall/east campus
In our September 23 communication, we described the process for selecting the Kendall/east campus architectural firms and announced the teams designated to design the individual buildings in the development area. Recognizing the value provided in the past, we have re-launched the East Campus Steering Committee and are continuing to rely on the expertise of School of Architecture and Planning faculty, as well as the vital input of student representatives. The newly-formed faculty Committee on Campus Planning has been briefed on the overall vision for the MIT campus, as well as the plans for Kendall/east campus, and we are committed to collaborating closely with the Committee to ensure that our shared visions for the campus are being realized.
The planning team has been focused on increasing the vitality of the Kendall/east campus area, by incorporating the diverse uses that have been recommended by all sectors of the MIT and Cambridge communities — hoousing, connected open spaces, retail, innovation space, childcare, and commercial space. The plan also identifies a prominent location for the MIT Museum and assures the incorporation of elements that reflect the essence of MIT in the gateway area.
The site plan below shows the proposed uses for the various parcels. Details regarding precise configurations, square footage, height, and number of housing units are still being examined as the design process proceeds, and will be shared at a community meeting when available. The plan will reflect the approved zoning for the district, and we believe this plan will serve to propel the area towards the objective of creating a vibrant mixed-used center with a captivating gateway to the MIT campus while preserving capacity for future academic uses.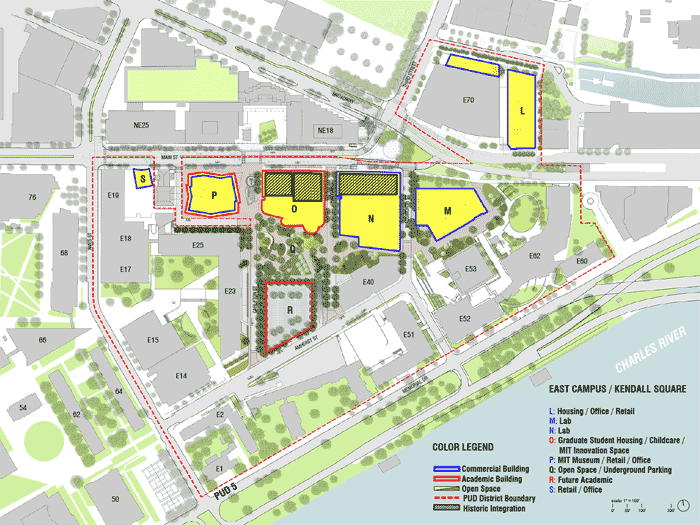 Thanks to the engagement of the Cambridge and MIT communities and the recommendations from the Graduate Student Housing Working Group, we now have an enhanced understanding and a robust plan for housing. Graduate student housing is designated at site O, and we are committed to completing new housing prior to replacing Eastgate Apartments. Site O has the capacity to replace all of the housing in Eastgate (201 units), and provide approximately 270 additional units of graduate housing. Residential housing is planned for Site L on the north side of Main Street, with a mix of affordable, innovation and market rate units. We believe that the presence of new housing together with significantly expanded retail spaces and improved public space will play an integral role in enhancing the liveliness of the area, and opportunities for additional graduate student housing are also being explored in the west campus area.
We look forward to sharing proposed building designs for Kendall/east campus at initial community meetings on May 6th. Once we have had the opportunity to collect broad feedback, we will submit design schemes to the Cambridge Planning Board for its public hearing and review process.
Unlocking the west campus potential
Over the past few months we have initiated a formal planning process for the west and northwest areas of campus. The intent of the current study is to create a long–range development framework to accommodate futuure academic and residential uses on the MIT campus west of Massachusetts Avenue to complement east campus design efforts and the ongoing renewal of the main campus. We have also formed the West Campus Steering Committee to provide input as the west campus study team works to identify sites to accommodate potential new building initiatives, including undergraduate and graduate housing. Student representation on the Steering Committee is key to the west campus study.
Similar to the east campus plan, there is great interest in enhancing the west campus area in order to bring more vibrancy to MIT's main entrance. A temporary open space landscape will be created on the site of Bexley Hall, and a series of open spaces and walkways are being envisioned as part of the overall west campus design framework. We are working to understand development capacity and the urban design opportunities this capacity holds for the future of west campus.
A critical part of MIT's campus renewal program is the renovation of some of our undergraduate residence halls. We are working on strategies to sequence the renewal of the residences, and are considering opportunities to add to our housing capacity to enable renovation of the residence halls. In the context of the west campus planning study, we are evaluating the possibility of developing the Metropolitan Storage Warehouse as an exciting site for a mixed-use development. It could possibly include undergraduate residences, maker space on the first floor, collaborative spaces on the top level, and retail along Massachusetts Avenue and Vassar Street. The Metropolitan Warehouse Advisory Group, being led by the Offices of the Associate Provost for Space Planning and Campus Planning, also includes students and a wide cross-section of the MIT community.
We are also studying additional sites to accommodate new housing for graduate students and opportunities to renovate the graduate residences in west campus. We have accepted the recommendation of the Graduate Student Housing Working Group, which identified the need to provide housing to accommodate an additional 500-600 graduate students beyond what is currently available, and will work toward achieving this target over time with developments in both the east and west campus areas.
Share your thoughts
These two processes in the Kendall/east campus area and now in the west campus area have been shaped in great measure by the steady commitment and energetic involvement of many members of the MIT and Cambridge communities. Over these past few years, we have learned a great deal about what is important to various sectors of our community, and believe that the Kendall/east campus plan now holistically reflects our shared values. This learning process has led us to approach the west campus planning effort in a very similar fashion. As is our practice, there will be many opportunities for information sharing and the solicitation of input as we proceed.
In the meantime, we encourage you to share your thoughts on either of these processes by sending email to mit2030info@mit.edu. Thank you for your past and future involvement as we work to shape our campus to reflect MIT's spirit of innovation and collaboration.
Sincerely,
Cynthia Barnhart, Chancellor
Martin A. Schmidt, Provost
Israel Ruiz, Executive Vice President and Treasurer
Wed, May 6
Noon-2:00pm Presentation on MIT's Kendall Square Initiative (MIT Student Center, W20 Room 491 - A light lunch will be provided.)

6:00-8:00pm Presentation on MIT's Kendall Square Initiative (Kendall Marriott at 50 Broadway - A light supper will be provided.)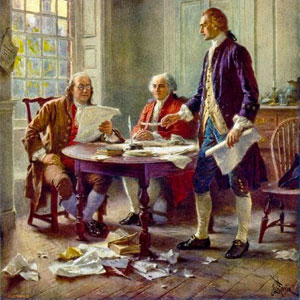 Here are a few items that might prove interesting:
Reconsideration #1. Councillor Toomey notified the City Clerk of his intention to file reconsideration of the vote taken on Mar 30, 2015 to refer to the Transportation and Public Utilities Committee City Manager Agenda #18 and Calendar #8 as amended regarding the Pearl Street Reconstruction Project.
It's anyone's guess where this will end up, but it did seem odd that this Order would be referred at the last meeting to a committee whose Chair will likely be hostile to it. There really is a need to review some of the boneheaded projects that have been trotted out under the "Complete Streets" banner, but it's doubtful that committee action will lead to anything other than politicizing this. A better term would be "Dysfunctional Streets" to describe road designs that provide no actual additional bicycle safety while rendering streets dysfunctional, e.g. Vassar Street where trucks have no other option than to park on sidewalks, a stopped vehicle brings all traffic to a standstill, and where the safety of any cyclist choosing to ride in the road is greatly compromised. While driving on the newly-choked Western Avenue the other day I got to witness first hand how even the simple act of parking a car can turn Western Ave. into a one-lane, highly congested road.
Manager's Agenda #1. Transmitting communication from Richard C. Rossi, City Manager, relative to a recommend on the reappointment of Christopher Bator to the Cambridge Redevelopment Authority for a 3-year term, effective Apr 13, 2015.
This is not controversial - just an opportunity to once again marvel at how the Cambridge Redevelopment Authority has pivoted over the last few years from being nearly irrelevant to becoming the vehicle of choice for some really important initiatives.
Order #2. That the City Manager is requested to confer with the appropriate departments to determine what types of traffic, parking, and other citations the city has legal jurisdiction over and to confer with the appropriate city departments to institute a day-fine policy in Cambridge. Councillor Mazen
This is a ridiculous proposal. A day-fine is "a fine tied to an individual's daily income". This proposal suggests that people whose reported income is low should pay less for parking violations or speeding tickets. The Order notes that "License suspensions and legal fees resulting from unpaid citations have been shown to have a disproportionately negative effect on low income individuals and households." There's an even simpler solution - don't park illegally or drive at excessive speeds that endanger others.
Order #5. That the City Manager is requested to report back to the City Council at the next regular meeting with an update on the Citywide planning process (Master Plan) including next steps and a timeline. Councillor McGovern
My sense is that when this Magical Master Plan is eventually decided (and I really am interested in the requested timeline), there's a good chance that it won't fulfill the hopes and dreams of those who have come to believe that all clocks must be stopped until it's in place.
Order #9. That Article Six of the Cambridge Zoning Ordinance entitled "Off Street Parking and Loading Requirements and Nighttime Curfew on Large Commercial Through Trucks" be amended in Section 6.20 entitled "Off Street Parking Regulations" to include information in "Carsharing Provisions." [attachment] Councillor Cheung, Vice Mayor Benzan, Councillor Kelley and Councillor Simmons
Order #12. That the City Council refer to the Ordinance Committee and the Planning Board, for hearing and report, an amendment to the Zoning Ordinances in Section 20.300 "Central Square Overlay District" regarding the granting of Special Permits in the Central Square Overlay District. Councillor Carlone and Councillor Mazen
Order #14. That Article 13 of the Cambridge Zoning Ordinances entitled "Planned Unit Development Districts" be amended in section 13.53.2 of 13.50 entitled "PUD-4, PUD-4A, PUD-4B and PUD-4C Districts: Development Controls" by striking out the first sentence and substituting in place thereof the following new sentence: The minimum size of the Development Parcel within PUD-4B shall be two hundred and fifty thousand (250,000) square feet. Councillor Simmons, Councillor Cheung and Councillor McGovern
This is a rare thing indeed - three City Council zoning petitions introduced in a single meeting. Almost all zoning petitions tend to originate with either property owners/developers who want to build something or with activists trying to block something from being built. It has become rare for the City Council to initiate the process, and here we hit the trifecta! I'll wait to hear more explanation of the motivation behind Order #9 and Order #14. As for Order #12, I was at first intrigued at what seemed to be an acknowledgement that providing incentives for new housing in Central Square might be a good direction consistent with some of the C2 recommendations from a couple of years ago. Then I read what Councillor Carlone wrote on his blog. Apparently the primary purpose of the zoning proposal in Order #12 is to remove the argument occasionally heard in regard to the ongoing Normandy/Twining petition that if housing cannot economically be built at Mass & Main (Lafayette Square) then an office or lab building would be the default option.
This chess move by Councillors Carlone and Mazen and their sponsors would affect the entire Central Square Overlay District in regard to any Special Permit application for Additional Height. There may be some merit in this proposal but it's also quite possible that it will have some unintended consequences. Either way, it's being introduced at this time apparently as an attempt to derail the Normandy/Twining proposal. Having a broader conversation about delivering new housing in the Central Square area is consistent with the C2 recommendations, but one really has to raise an eyebrow when those now suggesting this are the same people who have squelched that conversation in the past. Besides, as we have heard the naysayers chant time and time again, how can we do anything without first having The Master Plan? [sarcasm intended] - Robert Winters
---
Update: Order #12 Failed on a 1-7-1 vote (Mazen YES via speakerphone; Carlone ABSENT). I don't recall it having ever happened that a proposed zoning amendment was defeated when introduced without even being formally referred to the Ordinance Committee and Planning Board. This was a stunning rebuke of Councillors Carlone and Mazen (and their supporters). - RW
[Video of meeting at http://ec4.cc/dea35349; Order #12 discussion starts at 2:19:20.]
---
---
Likely City Council Challengers for 2015 (as of Apr 14, 2015)
Courtney, Kimberly S., 2 Ware St., Cambridge, MA 02138
filed organizational papers Jan 9, 2015 [Treasurer: Jessica Ernst]
Devereux, Janis A., 255 Lakeview Ave., Cambridge, MA 02138
filed organizational papers Feb 11, 2015 [Treasurer: Doug Brown]
vanBeuzekom, Minka Y., 20 Essex St., Cambridge, MA 02139
announced intentions [Treasurer: Ian Carlson]
Hopson, Diane, 1 Leighton St., Cambridge, MA 02141
multiple people reporting
Likely School Committee Challengers for 2015 (as of Apr 14, 2015)
Elechi Kadete, 10 Laurel St., Cambridge, MA 02139
stated on C-Port listserv
Who else are you hearing about?
Campaign Finance – 2015 Cambridge City Council Candidates
---
May and June Programs at Fresh Pond Reservation

These events are FREE and open to the public. Children are welcome in the company of an adult.

A Remembrance of Chip Norton, Watershed Manager for the Cambridge Water Department:
http://www.friendsoffreshpond.org/calendar2014/photopages2014cal/jan14/p01-13-14chipnorton.htm
Fresh Pond Kids' Walks!
Dates: Fridays, May 1, 8, 15 and 22
Time: 10am to 11:30am
Place: Maher Park Parking Lot, 650 Concord Ave.
Join CWD staff and volunteers for casual nature explorations, designed for young kids and their parents/caretakers, and play in our urban wild! Please come dressed ready for the weather (and in clothes that are OK to get a bit dirty). Rain or thunder cancels. Sorry, no Kids' Walks on the 29th - staff will be preparing for Fresh Pond Day! Contact: Kirsten at 617-349-6489, klindquist@cambridgema.gov. *This series is for small family/caretaker groups only - if you wish to bring a class or other organized group, please contact Kirsten for alternative opportunities.*
Spring Bird Walk
Date: Sunday, May 3
Time: 8 to 10am
Meeting Place: Register for meeting location and parking information
Many of our summer residents will have returned, including tree swallows, catbirds, grackles, and red-winged blackbirds - and perhaps phoebes, vireos, and orioles. They will be singing up a storm, courting mates, defending territories, and some will be hard at work building nests. Led by Nancy Guppy. Beginners are welcome. We have binoculars to lend and will show you how to use them. To register and for important meeting and parking information, email Elizabeth Wylde at friendsoffreshpond@yahoo.com.
A Tour of the Water Purification Facility
Date: Monday, May 4
Time: 6 to 7:30pm
Place: Water Purification Facility front door, 250 Fresh Pond Pkwy
Come learn how the Cambridge Water Department purifies drinking water for your tap after it's pumped into our facility from nearby Fresh Pond. You'll have the chance to speak with water treatment and testing staff, see the equipment in action and check out our water quality lab! For more information, contact Kirsten: 617-349-6489, klindquist@cambridgema.gov. Please call ahead if coming with a large group.
Community Weedouts
Dates: Mondays, May 4 and 11
Time: 6 to 7:30pm
Meeting Place: Volunteer trailer in the lower parking lot
Spring has sprung at Fresh Pond, and among other things this means…weeds! Invasive weeds, that is. Help us protect native plants on the Reservation by keeping these intruders at bay at these evening weeding sessions. No experience necessary; all equipment provided! *If you are coming as a group, please contact Kirsten in advance at 617-349-6489 or klindquist@cambridgema.gov.*
Wake Up & Weed
Dates: Thursdays, May 7, 14, and 21
Time: 10am to 12 noon
Meeting Place: Volunteer trailer in the lower parking lot
Join our weed-warrior crew! We are Fresh Pond citizens dedicated to keeping invasive plants at bay for the benefit of wildlife, water and humans alike. No experience or long-term commitment necessary! All tools are provided; sturdy shoes, pants, long-sleeves and a water bottle are strongly recommended. Contact: Kirsten at (617) 349-6489, klindquist@cambridgema.gov.
Birding by Ear
Date: Saturday, May 9
Time: 7:30 to 9:30am
Meeting Place: Register for parking and meeting information
Bird walk leader Herb Pearce will help us learn to identify and locate birds by their songs. At this time of year we may also hear babies in the nest and see their parents bringing them food. We will use guides with pictures of the birds to help you get to know them. Birders of all experience levels are welcome. We have binoculars to lend and will show you how to use them. Register with Elizabeth Wylde at friendsoffreshpond@yahoo.com.
Craft & Construction Night for Fresh Pond Day!
Date: Monday, May 18
Time: 6 to 7:30pm
Meeting Place: Fresh Pond Ranger Station, 250 Fresh Pond Pkwy
Fresh Pond Day is around the corner, and we always have last-minute crafts and materials to prepare! Come lend a hand to give the event some extra flair. There'll be artistic tasks as well as general assembly of signs, tags, and things yet to be known. We'll be ever grateful - no experience necessary! *If you are coming as a group, please contact Kirsten in advance at 617-349-6489 or klindquist@cambridgema.gov.*
8th Annual Fresh Pond Day!
Date: Saturday, May 30
Time: 11am to 3pm
Place: Festivities around Water Treatment Facility, 250 Fresh Pond Pkwy
Join us in celebrating the land, water, wildlife and people that make Fresh Pond Reservation a unique and vital part of our City! The festivities will feature bicycle and wildlife parades (for all ages!), live music, kids' activities, live wildlife demos by MassAudubon, water treatment, restoration project and nature tours; truck climb-aboards; free etiquette clinics for dogs; and more! Dogs are welcome but must be leashed at all times (Cambridge dogs included). For those arriving by car: plan on parking at the Tobin School (197 Vassal Lane). There are plenty of green transit options: the bikeway, bus routes 72, 74, 75 & 78; and Alewife T Station. Get your sun-boogie on: rain cancels! For full schedule, weather updates, and volunteering info, check out: http://ow.ly/LUJL3 on the CWD website or contact Kirsten at 617-349-6489, klindquist@cambridgema.gov.
Nesting Bird Walk
Date: Sunday, June 6
Time: 7:30 to 9:30am
Meeting Place: Register for parking and meeting information
Many birds choose Fresh Pond Reservation as the place to build their nests and raise their young. There is an abundance of insect food and plenty of safe habitat. We may hear birds singing to protect their territories and see others gathering food for their hungry babies. Walk leader Nancy Guppy will help us look for Baltimore orioles, yellow warblers, warbling vireos, and redwing blackbirds, all of which spend the breeding season at Fresh Pond. Beginning birders are welcome! If you don't have binoculars you may borrow a pair from us. Register with Elizabeth at friendsoffreshpond@yahoo.com.
Summer Solstice Bird Walk
Date: Sunday, June 21
Time: 6 to 8pm
Meeting Place: Register for parking and meeting information
If you can't bear to get up at dawn to look at birds, this walk, led by Nancy Guppy, is for you. Just as people take advantage of the longest days of the year to continue their outdoor activities, so do birds. They spend the extra hours of daylight foraging for food for their hungry babies. Beginning birders are welcome. We have binoculars to lend and will show you how to use them. Register with Elizabeth at friendsoffreshpond@yahoo.com.

Would you like to join Friends of Fresh Pond Reservation? Membership in Friends of Fresh Pond Reservation costs only $10 per year ($5 for seniors and students, $15 for families). To join, fill out a membership form available in the Ranger Station information racks, e-mail friendsoffreshpond@yahoo.com, call 617-349-6489, or visit our website at www.friendsoffreshpond.org to download a form.

Keep up to date on events at the Pond. Visit the Friends group website at http://friendsoffreshpond.org to learn more about Friends group activities and the reservation and its inhabitants. Upcoming Programs

• The Fresh Pond Reservation Stewardship Program
Fresh Pond Reservation users are getting involved! The Cambridge Water Department's Fresh Pond Reservation Stewardship Program brings people together on a regular basis to monitor plants, conduct maintenance activities, and to learn about the ecology and history of the area. You can find out about projects that are being planned for this summer, including invasive plants removal, Purple Loosestrife nursery monitoring, bird box monitoring, and more. Call Kirsten Kindquist at 617-349 6489 or email klindquist@cambridgema.gov for more information.

• Read the Friends of Fresh Pond Reservation Annual "Year in Review (2013)"

• Read the Friends of Fresh Pond Reservation Annual "Year in Review (2014)"

• Grow Native Massachusetts is offering a series of free nature-related "Evenings with Experts" lectures at the Cambridge Public Library, 449 Broadway. Details are at www.grownativemass.org and grownativemass.org/programs/eveningswithexperts in particular. First Wednesdays of the Month, 7:00-8:30pm.

• Sign up for the City of Cambridge's informative "Recycling and Composting Newsletter" by e-mailing recycle@cambridgema.gov.
AMC Local Walks/Hikes - Come for a walk or hike with us.
Sun, Apr 26. Mt. Misery, Farrar Pond, and adj. conservation areas. 9 mi. [70+ temp may lessen distance.] Meet at 9:30am in Lincoln RR commuter pkg. lot. From Rte. 95/128 take exit 28 in Waltham, follow Trapelo Road W 2.5 mi., L on Lincoln Rd 1.4 mi., R just before tracks into RR sta. lot. L Jim Loughlin.
Sun, Apr 26. Minute Man National Park. Spring on the Battle Road. Share some revolutionary tales along the Battle Road in the Minute Man Park from 9:30am to noon. Walk 7 brisk miles from the Visitor's Center to the North Bridge. Meet at 9:30am in Concord at the Old Manse parking lot on Monument Street. We will carpool to the visitor center. Walk trails to Meriam Corner for a break and on paved roads to the Old North Bridge and the parking. Directions: follow 2A to Concord Center. Follow signs to North Bridge. Bring water and snacks. Rain cancels. L Eveline Weyl.
Sun, Apr 26. Middlesex Canal, Billerica. Joint with the Middlesex Canal Association. Meet at 1:30pm at the Middlesex Canal Museum and Visitor Center in the Faulkner Mill in North Billerica (where Faulkner St. crosses the Concord River). The walk will be over 3-4 miles of generally level wooded terrain and streets, for 2-3 hours, rain or shine. The route follows the canal south of the Concord River. Sites to be visited include a guard lock, an anchor stone for the floating bridge which once carried the towpath across the river, and many stretches of canal, some still watered. The Museum, Visitor Center and bookstore will be open from 12:00pm-4:00pm. Museum phone 1-978-670-2740. L Robert Winters, CL Roger Hagopian, CL Marlies Henderson.
Sat, May 2. Parks & Greenways, Quincy. 7-mile walk w/beach, woods, salt marshes, historic sites, 10:00am-2:30pm. Bring lunch & water. Take Quincy Shore Drive to Wollaston Yacht Club pier at Beach St. Or T to Wollaston, walk 1 mile. Email if severe weather. L Mike Tuohey.
Sun, May 3. Acton Arboretum, Acton, MA. Slow-paced nature walk in search of a variety of early spring wild flowers and other signs of spring. The walk will focus on plant ID and natural history. 9:30am-12:30pm. From Concord rotary, take Rte. 2 West 2.2 miles, Right on Taylor Road 0.7 miles to Arboretum on right. Arrive early, parking limited. (Note - sign faces opposite direction). Steady rain cancels. Boot Boutwell is a freelance itinerant naturalist who teaches and leads nature walks for Mass Audubon - Habitat, The New England Wild Flower Society, the Winchester Public Schools, the Friends of the Middlesex Fells, the Appalachian Mountain Club and other organizations. L Boot Boutwell.
Sat, May 9. Delaney Wildlife Mgt. Area (Stow, MA). Meet at 10am, finish by mid-afternoon. 6-7 miles. Two small stream crossings. Due to ltd. pkg. at trail site, we will meet in parking lot of the Union Church (bright blue door) which is next to the Stow Police Station on Rte. 117, 0.2 mi. from Stow Center. Short car pool. L Jim Loughlin.
Sat, May 9. Warner Trail, Sharon. 9:00am-5:00pm. 13-mi. mod. hike from Edge Hill Rd. in Sharon to High Rock in Foxboro. Bring lunch & water. We will spot cars before the hike. Meet at High Rock Rd. (sign). Turn onto High Rock Rd (paved woods road) 100 yds. S of MOM South Motorcycles, 1000 Washington St (Rte. 1), Foxboro. Heavy rain cancels. Email Jim if uncertain. L Jim Goyea, CL Laura Cerier.
Sat, May 9. Arnold Arboretum, Jamaica Plain, MA. Scenic, mod. 5-mi. walk w/many stops to view plants & trees in bloom. 10:30am-1:30pm. Bring lunch. Meet at Admin. Bldg. Park on Arborway or take T to Forest Hills, walk 0.6 mi. Storm cancels. L Marc Hurwitz.
Sat, May 9. Blue Hills Bird Walk, Milton. Beginner's bird walk 3 miles through Fowl Meadow, 7-10:30 am. Learn to bird. See both common and rare bird species at the height of spring migration in the best birding area in the Blue Hills Reservation. Bring your binoculars and a bird book if you have one. From Route 93/128 Exit 2B, take Route 138 north 1.7 miles, turn left on Neponset Valley Parkway and go 0.5 miles to the small lot at Brush Hill Road. Joint with Friends of the Blue Hills. L Steve Olanoff.
Sun, May 10. Blue Hills, Ponkapoag Pond. 4 mi. mod.-paced hike, 10:30am-1:30pm. Bring lunch+water. I-93/Rte 128 exit 2A to Rte.138S for 0.7 mi. to Ponkapoag Golf Course pkg. lot on L. Storm cancels. L Beth Mosias.
Sun, May 10. Maudslay State Park, Newburyport. 10:00am to 2:00pm moderate pace. Bring water, lunch & proper shoes. I95 exit 57 to Rte. 113W for 0.7 mi., R on Hoyts (Gypsy Ln.) to end lot on R. Pkg fee. L Sara Epstein (781-620-1014).
Hearing on Mass. & Main
Apr 2 - The City Council's Ordinance Committee met on Wed, April 1 for a hearing on the Normandy/Twining Zoning Petition to rezone an area in the Lafayette Square/Mass. & Main end of Central Square. There was plenty of public comment on both sides of the issue, but perhaps the most bizarre testimony was given by Larry Lessig, a prominent activist/academic, who rattled on about money and politics with barely any (informed) reference to the matter before the committee. Perhaps Professor Lessig should have researched the topic before the committee (a rezoning petition) before lecturing the councillors about how corrupt he has decided they are. Following his rant, Lessig headed back home to Brookline.
It's pretty clear that Lessig's appearance at the Ordinance Committee came at the request of Councillor Mazen (apparently not, see below). Councillors Carlone and Mazen (and at least one other new candidate) have apparently decided that one of the central narratives of their joint City Council campaign will be to brand most of the other incumbent councillors as corrupt - even though there is absolutely nothing to support that assertion. This year's municipal election campaign promises to bring more of the same.
The Ordinance Committee later voted 6-3 to forward the Normandy/Twining petition to the full City Council with a positive recommendation. Only Councillors Mazen, Carlone, and Kelley voted to keep the matter in committee. It's doubtful whether the self-righteous Prof. Lessig will care one way or the other. - RW
---
A Whodunit
Apr 3 - I have been emphatically informed by a Larry Lessig disciple that it was not Councillor Mazen who invited The Great Professor to City Hall to lecture the city councillors on their bad behavior. [It was Mazen's announcement of the Coming of Lessig that tipped me off, hence the presumption that it was Mazen's invitation.] Very well, but since it's quite obvious that his visit was not based on his longstanding interest in all things relating to Central Square (though he does apparently know where it is), he surely must have been invited. But by whom? Hmmmmm..... Let's speculate!
Well, Lessig's write-up of his Great Visitation indicates that his "research" came from Doug Brown, the Treasurer of the Devereux campaign for City Council. Could they be the ones who brought in The Professor to educate our lowly councillors on their evil-doing? There was also an announcement from Dennis "Pearl Harbor" Carlone announcing the arrival of The Prophet.
That raises an even more interesting possibility (all speculation, of course!). Could the invitation have come from Carlone's trusty aide, Mike "No Money" Connolly, a Lessig adherent who continues his involvement with the Communications Committee of the Cambridge Residents Alliance (CResA), the group that is not only orchestrating the opposition to the Normandy/Twining petition but also actively organizing a slate of candidates for the November municipal election? City Council aides are paid by the taxpayers. Does the job description include active involvement in a political campaign and inviting people to committee hearings to berate other city councillors?
This is, of course, all speculation! Everyone likes a good whodunit.
There's also the rather curious timing of the Grand Alternative Vision for the Normandy/Twining properties introduced during the Ordinance Committee meeting by Councillor Carlone. Apparently this Grand Alternative Vision was known to activists with the Cambridge Residents Alliance prior to the meeting, but I'm not aware of any public availability of The Great Work prior to its appearance late in the Ordinance Committee meeting. This is interesting in light of Carlone's support of a recent Order that reads:
Order #8 (introduced Jan 29, referred to City Manager on Feb 20 for feasibility). That the City Manager is requested to ask all City Departments to have documents and presentations made available to the public and the City Council at least three business days in advance of the scheduled meeting to allow ample time for review. Councillor McGovern and Councillor Carlone
Apparently, Councillor Carlone now realizes that advanced notice is just not feasible, especially when there's the urgent need for a good delay tactic. I have no opinion of the merits of Carlone's Grand Alternative Vision, but I suppose if my drawing skills were better I could have hustled up some sketches as well. Together with the eternal delay in considering the recommendations of the C2 Committee issued many moons ago, perhaps my sketches would have included images of cans being kicked down the road along Mass. Ave. It is perhaps necessary to point out that the Normandy/Twining petition was introduced precisely because the City Council has done little more than kick the C2 can down the road for so long without any tangible action. At least that conversation might now actually begin.
I have to admit to being greatly entertained by statements by prominent CResA members about the wonderful possibilities of building housing on municipal parking lots in Central Square. These excited voices include those who signed the Area 4 Neighborhood Preservation Petition just a few years ago, a zoning petition that would have created a new Municipal Parking District MP in Central Square to include all of the parking lots along Bishop Allen Drive. The proposal included the following clauses in Section E:
8.1 - District MP shall not allow the construction of any permanent structures of any type whatsoever, except those necessary to collect parking fees, and/or provide charging facilities for electric vehicles. The maximum height of any permanent structure, other than for public lighting, must not exceed 15 feet, inclusive of signage.
8.2 - No residences, businesses, or other entities shall be permitted to construct structures in MP districts, except as follows: Public performances, festivals, community events, farmer's markets, and other temporary uses in accordance with procedures previously established by the Cambridge Traffic and Parking Department.
Signers of that "Permanent Parking Petition" included, among others, #1 (Susan Yanow), #4 (Charles Teague), #17 (Nancy M. Ryan), #18 (Paul Stone), #29 (Patricia Lee Farris), #30 (Jonathan King), #31 (Richard Goldberg), and #35 (Richard Krushnic). My favorite quote from the April 1 Ordinance Committee meeting after referral of the Normandy/Twinning petition with a positive recommendation: "It sucks. I can't believe they accepted permanently zoned parking on the residential side of Bishop Allen as part of the package," said Nancy Ryan.
In the end, the City Council voted 6-3 at the Ordinance Committee to move the Normandy/Twining petition to the full City Council without any additional consideration of Carlone's Grand Alternative Vision. It will undoubtedly make an appearance at the Planning Board hearing (Apr 28) on this matter and when the City Council discusses the Ordinance Committee report in a few weeks. Maybe the good people of the Planning Board will even incorporate some of its elements into its recommendations before issuing their report to the City Council. At least they'll have the advantage of seeing The Great Vision before their meeting. - RW
---
Regarding Campaign & Political Finance
Apr 4 - On the specific issue of "Money in Politics", I should perhaps more completely express my point of view on the subject. I believe in full disclosure of how much money is received by political candidates and who contributed that money. I also believe in the need for a clear account of campaign expenditures. The Commonwealth's Office of Campaign and Political Finance (OCPF) does a pretty good job of making that information easily available to the public. It's quite ironic that one of the loudest of the incumbent city councillors on the issue of "Money in Politics" actually does the lousiest job of providing clear campaign finance information to the OCPF. As the saying goes, "Do as I say, not as I do."
I don't really care what the individual campaign contribution limit is nor do I especially care if property owners/developers make sizable contributions to certain candidates - as long as it's all disclosed. People are free to draw any conclusions they want from the campaign finance information - even wrong-headed conclusions. Candidates and their campaigns are also free to draw attention to the "purity" of their campaign contributions if they feel that's a good tactic for winning an election, but let's understand this to be as much a tactic as a principled stand. Any such "clean" candidate then also has to fully understand the phrase "people in glass houses shouldn't throw stones." If a candidate chooses to question the integrity of other candidates, then that candidate should not be surprised when their own integrity is possibly questioned.
Personally, I would prefer that all candidates just stick to "the issues" and the presentation of their own viewpoints on where Cambridge should be heading and how, as an elected official, they might be able to contribute to that future. It's ironic when the supposedly "clean" candidates are the ones heaving the greatest amount of mud.
It's worth mentioning that historically those Cambridge municipal candidates who came from the tonier parts of town (Avon Hill, Shady Hill, Coolidge Hill, Brattle Street, the Larches) have always been able to generate sizable campaign chests with relatively minimal effort. Other candidates often have to work harder to generate campaign funds and it's pretty obvious that receiving a few big checks will free up time for other campaign activities. Few, if any, candidates enjoy having to be constantly begging for contributions.
In the end, I still have to come back to the fact that candidates like Craig Kelley and Fred Fantini manage to carry out successful campaigns on a shoestring simply by maintaining good contact with their constituents (most likely voters). Other candidates are learning to do this better (though I have to say that it's a bit fishy when the frequency of the candidate newsletters increases dramatically only during municipal election years). I would also prefer that City Council "aides" play no role whatsoever in what is so obviously their councillor's political campaign. If they choose to do that, their councillor really should list "City of Cambridge" among their in-kind contributors. It's all about full disclosure.
There's also the matter of the role of supposedly "non-profit" organizations (Association of Cambridge Neighborhoods, Cambridge Residents Alliance, and others) during municipal election campaigns and in their their year-round activities relating to municipal elections. At what point does carrying out a political agenda, including the support of candidate slates, run afoul of the laws regarding non-profit organizations? I'm not aware that these organizations even file their receipts and expenditures with the OCPF, though they really should. At least the old Cambridge Civic Association in its heyday never claimed non-profit status. It was simply an "association" and they even took the step to separate out the financial aspects of their biennial election activities from the finances of the association. Perhaps it's time to ask for full disclosure for all parties actively involved in the municipal elections. - RW
---
Back to Lafayette Square...
Apr 5 - The diversionary tactics surrounding the Normandy/Twining proposal for the Lafayette Square end of Central Square have included, among other things:
claims that this is all about the corrupting influence of money in politics;
the 11th hour introduction of a Grand Alternative Vision from one councillor after years of silence;
concerns from activists that this proposal might prevent future housing from being built on the very same parking lots that they previously petitioned to be zoned permanently as surface parking lots;
concern that this petition is "spot zoning" that doesn't take into account more wholistic planning for the greater Central Square area as discussed in the C2 recommendations several years ago;
stoked-up fears of gentrification; and
suggestions that the permittting of one new tall building will have a "domino effect" leading to the "Manhattanization" of Central Square and possibly all of Mass. Ave. out to the Arlington line.
In truth, this is just a zoning petition that at its core attempts to realize some of the main themes espoused in the C2 recommendations - primarily residential development rather than office/lab development and a focus on enhanced ground floor retail and publicly accessible space for gathering, etc. Let's not forget that this whole latest wave of planning for Central Square was ignited by the Mayor's Red Ribbon Commission on the Delights and Concerns of Central Square that began meeting in 2010. That process culminated in a report that was finalized in December 2011. Though not so clearly spelled out in the formal report of the Red Ribbon Commission, one of the most prominent themes that emerged was the idea that Central Square could and should support a significant amount of new housing - especially for middle-income people.
This was followed by the so-called "C2 Committee" whose official name (Central Square Advisory Committee) unfortunately duplicated that of the existing committee established decades earlier with the designation of the Central Square Overlay District. That 21-person committee met frequently with consultant Goody/Clancy and the Community Development Department to develop a wide range of ideas and recommendations that were issued in a report in December 2012 and finalized the following year [Final Report].
One of the most central recommendations from the C2 Committee was that new housing should be seen as a desirable goal for Central Square and that permitting additional height to incentivize the creation of that housing was a good trade-off. Another core recommendation was that ground floor retail should be seen as a community benefit and that ideas like exclusion of the floor area of such retail space from density calculations or providing subsidies to retail tenants might be worthwhile incentives.
The C2 Report has now been sitting on the shelf for a couple of years due to City Council inaction. The Quest properties were bought by Normandy/Twining around the time the original C2 recommendations were issued and the new owners have clearly taken seriously the priorities spelled out in those recommendations. In the absence of a zoning plan from the City Council (or even a discussion), eventually Normandy/Twining introduced their own petition. This should not have come as a surprise to anyone.
Is the Normandy/Twining proposal the perfect expression of what would be best for Central Square? Perfection is a lot to ask. It is an interesting plan that takes into account a lot of constraints and desirable benefits. The nature of the Normandy/Twining properties puts a lot of constraints on what can be built - both physically and economically. They necessarily have to build around properties they don't own, and they attempt to make best use of a patchwork of parking facilities that were assembled over decades by the previous owners. They are choosing to build housing and ground-floor retail rather than labs and offices. They are responding to widely held desires for better interconnections with the surrounding neighborhood. They're also asking for building heights that may at first seem unprecedented until you look at the nearby Manning Apartments on Green Street that are of comparable height. They have promised a significant percentage (20%) of dwelling units to be set aside for people with limited incomes.
Reasonable people can disagree about the costs and benefits of the proposal, but it was clear from the start that this was a proposal that had to be seriously considered, and the fact that more people have spoken in favor of it at public meetings than those who are opposed is something that might not have been expected. (Personally, I don't believe the raw numbers of people who speak on any issue to be especially revealing.) The proposal is potentially a game-changer in terms of new transit-oriented residential development in Central Square with less required parking and with the potential to economically support existing Central Square businesses. - RW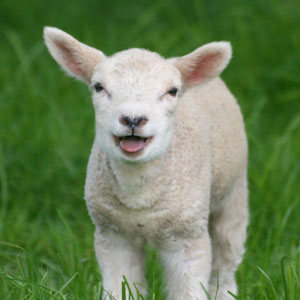 As this brutal winter stumbles to a welcome end, the City Council meets on Monday to do its thing. Here are a few noteworthy items (at least to this Council watcher).:
Manager's Agenda #9. Transmitting communication from Richard C. Rossi, City Manager, relative to a rescission of the remaining amount of the loan order ($1,600,000) authorized by the City Council on Feb 13, 2012 for the renovations to the original police station at Five Western Avenue.
How can you not like it when a project comes in $1.6 million under budget?
Manager's Agenda #12. Transmitting communication from Richard C. Rossi, City Manager, relative to Awaiting Report Item Number 15-07, regarding a report on variance requests and application results since January, 2010. [really big attachment]
I'm reminded of the time several summers ago when a City Council request for information from the Police Department yielded a stack of paper several feet high resting on Councillor Kelley's desk. This is just a PDF file and not nearly as voluminous, but it always reminds me that you shouldn't ask for information that requires some effort to generate unless you have some notion of what you'd like to do with that information once you get it. This request came from an Order by Councillor Kelley that was adopted on Feb 20, 2015. If the goal is to identify shortcomings in the Zoning Ordinance that routinely lead to many requests for variances, that would be a useful exercise that might warrant some tweaks to the Zoning Ordinance. It's just as likely that the intention might be to crack down on variances without examining why people seek them in the first place.
---
Manager's Agenda #17. Transmitting communication from Richard C. Rossi, City Manager, relative to the appointment of members of the Pedestrian and Bicycle Committees for two year terms, effective Apr 1, 2015.
Manager's Agenda #18. Transmitting communication from Richard C. Rossi, City Manager, relative to an update on the status of the Pearl Street reconstruction project.
I occasionally wonder what would happen if someone like me who questions some of the bicycling infrastructure decisions made internally by the City were to apply to be on the Bicycle Committee. My sense is that diversity of opinion is not welcome on that particular committee and that applicants are screened accordingly. Regarding the Pearl Street project, I fear that the plan is to wait out the opposition and proceed with the elimination of curbside parking when the best opportunity arises - regardless of need or the preferences of abutters.
---
Manager's Agenda #19. Transmitting communication from Richard C. Rossi, City Manager, relative to the recommendation from the Planning Board to approve 1) the disposition of the leasehold interest in the Foundry Building; and 2) a diminution of the disposition process as it relates to the provision of a traffic study and provision of real estate appraisals of the Foundry Building.
Unfinished Business #12. Transmitting communication from Richard C. Rossi, City Manager, relative to an update on the Foundry Building process, including the City's plans to collaborate with the Cambridge Redevelopment Authority (the "CRA") to redevelop the Foundry building in a way that meets the vision and objectives expressed by the City Council and the community...
It's good to see some progress on the Foundry matter. I really don't know what balance will ultimately be struck among the competing interests and financial constraints associated with this building, but at least things are moving forward. It's great to see how the revitalized Cambridge Redevelopment Authority is playing an active role in this and other initiatives.
---
Unfinished Business #11. A communication was received from Donna P. Lopez, City Clerk, transmitting a report from Councillor David P. Maher, Chair of the Ordinance Committee for a public hearing held on Dec 19, 2013 to conduct a public hearing on an amendment to the Municipal Code in Chapter 8.67 entitled relating to Plastic Bag Reduction. The question comes on passing to be ordained on or after Feb 24, 2014.
Committee Report #3. A communication was received from Donna P. Lopez, City Clerk, transmitting a report from Vice Mayor Dennis A. Benzan and Councillor Dennis J. Carlone, Co-Chairs of the Ordinance Committee, for a public hearing held on Mar 12, 2015 to discuss amendments and other related documents associated with the plastic bags ordinance.
It's likely that this proposed ordinance will be voted at this meeting. The essential elements are that (1) plastic checkout bags would be banned in Cambridge (which won't affect those of us who shop almost exclusively in Somerville and Everett), (2) a mandatory fee of at least 10¢ will be charged for every paper bag used at checkout (not sure what this means regarding single- vs. double-bagging), and (3) a minimum thickness (3 mils) will be established for what constitutes an approved reusable bag. There are only limited provisions for exemptions.
Personally I use only reusable bags and have done so for years. I imagine most municipal election candidates this year will be distributing reusable bags emblazoned with their names and the usual #1 Vote request. Perhaps I'll vote for candidates based on who provides the most durable shopping bags. Councillor Toomey was way ahead of everyone last time in this regard.
---
Unfinished Business #13. That any committee report that has not been signed by the Chair of the committee within seven days after submission of the committee report by the City Clerk be placed on the City Council Agenda unsigned. Order Number Eight of Mar 2, 2015 Referred to Unfinished Business.
It's interesting how many committee reports have been submitted since this proposal was submitted by Councillor Toomey. Anything that moves things along is welcome. Now if only we can come up with a Rules Change that would prevent significant matters from being endlessly kicked down the road - and I'm definitely thinking of Central Square here which is only now getting some renewed attention years after a broad range of recommendations were presented as part of the K2C2 process. There will be an Ordinance Committee hearing on those recommendations on Wed, April 15 (at 5:30pm in the Sullivan Chamber), but only for the purpose of discussion with no actionable items before the committee.
The Normandy/Twining zoning proposal for the Mass. & Main area of Central Square is also now before the Ordinance Committee. The petitioners recently increased the percentages of permanently and privately subsidized units in their project to 20 percent should the proposed zoning be approved. Their original petition called for 17 percent affordable and middle-income units. They have now doubled the percentage of affordable units (50 to 80% of area median income) from 8.5 percent in the original petition to 17 percent and will maintain 3 percent middle income units (80 to 120% of area median income). The proposal would deliver 40 affordable and 7 middle income housing units for a total of 47 permanently and privately subsidized units out of a total of about 230 units. Enhanced ground floor retail opportunities and neighborhood connectivity are also included in their proposal.
Unfinished Business #14. A communication was received from Donna P. Lopez, City Clerk, transmitting a report from Vice Mayor Dennis A. Benzan and Councillor Dennis J. Carlone, Co-Chairs of the Ordinance Committee, for a public hearing held on Mar 3, 2015 to continue discussions on the zoning petition filed by Whitehead Institute to amend the Zoning Ordinance, Sections 14.32.1 and 14.32.2 to provide for an increment of 60,000 square feet of GFA to be allowed by special permit in a portion of the MXD District, in Section 14.70 by retitling "Special Provisions Applicable Within the Ames Street District: and by adding a new Section 14.72 "Special Provisions Applicable Outside the Ames Street District. The question comes on passing to be ordained on or after Mar 30, 2015. Planning Board Hearing held Dec 16, 2014. Petition expires Apr 8, 2015.
This zoning petition will likely be ordained at this meeting.
Applications & Petitions #3. A zoning petition has been received from Chestnut Hill Realty, requesting the City Council to amend the Zoning Ordinance in the Basement Housing Overlay District Section 20.600.
I won't pretend to understand what the intent of these technical amendments are. As was the case when the original zoning was introduced and passed, I'll just say that it would be a shame if any basement space in buildings that is actually necessary for bicycle storage and other needs of residents is lost just to pack in a few more income-producing units. On either side of my house on Broadway there are buildings that maximized the rentable space by eliminating options for on-premises bike parking and seriously compromising the options for storing and managing waste and recycling.
Resolution #24. Reminder to Cambridge residents that street cleaning will begin the first week of April. Councillor Toomey
Run for your lives! The sweepers are coming! Don't get towed!
Order #3. That the City Manager is requested to consult with all relative City departments to increase the number of electric charging stations available in the City, to determine the feasibility of making these stations free and to recommend other incentives that may include, but not be limited to, free resident parking stickers and allowing electric cars to park at parking meters free of charge as ways to encourage the purchase and use of electric cars. Councillor McGovern
Let me see if I got this straight. This proposes to provide free parking and free electric charging to anyone with an electric vehicle. Why stop there? The City should also pay the rent and mortgage costs for these superior beings. But seriously, I would think that driving an energy-efficient vehicle that costs less to operate should be more than enough incentive. I also expect that any lost revenue or added energy costs borne by the City will ultimately lead to increased parking fees for those of us less enlightened beings who still have more conventional engines in our vehicles.
Order #6. That the City Manager is requested to confer with the appropriate city departments to update the City Council as to whether there are any proposed increases to Common Victualer (CV) and Liquor License renewal fees, to determine if there is a liquor license cap in the Central Square area and to the suitability of raising the liquor license cap in and around the Central Square area. Vice Mayor Benzan
I'm not sure what's behind this, but my understanding is that there is a cap on the number of liquor licenses that may be sold, but the License Commission has been issuing nontransferable "no value" pouring licenses to restaurants In Central Square and elsewhere in order to help those businesses.
Order #7. That the City Manager is requested to confer with the local business associations, neighborhood groups and city departments to conduct a series of cleanups of our neighborhoods and City Squares, primarily Kendall, Harvard, Central, Alewife, Inman, Huron Village and Porter. Vice Mayor Benzan
These kinds of events are always best organized by the local business and neighborhood associations and by individuals with whatever assistance the City is able to affordably provide. The City should simply let the organizers know what help they might be able to provide, but let the residents and business owners take the lead.
Order #9. That the City Manager is requested to report back to the City Council with an update on the analysis that has been done to understand the finances of new development in Central Square, including the report by economic consultant Sarah Woodworth. Councillor Carlone, Councillor Kelley and Councillor Mazen
I am curious about the underlying purpose of this Order. While it's certainly a good idea to have a firm grasp on the economic realities surrounding development proposals like the one contemplated for Mass. & Main (Normandy/Twining), my suspicion is that this could be an effort to cook up grounds to justify blocking the proposal. We'll all benefit from an honest discussion of the economics, but hopefully not just as a smokescreen for a separate agenda.
Order #10. That the City Manager is requested to report back to the City Council on the status and next steps for the Beekeeping ordinance. Councillor Carlone
I wasn't aware that there was an actual proposed ordinance to allow and perhaps promote beekeeping, but it's a good idea worth pursuing. On the other hand, it seems a bit ridiculous that this should be over-regulated or banned in the first place.
Order #12. That the City Manager is requested to confer with the appropriate City personnel to determine and provide an update to the City Council on parking needs and availability in the Central Square area and to confer with the appropriate City personnel to determine, as part of the broader question above, the cost and feasibility of adding additional parking levels to the Green Street Garage, to determine how many additional feet the garage could be expanded to as of right and how many extra parking spaces that would yield, and what changes, if any, would be needed to existing zoning laws in order to build the garage to its maximum capacity. Councillor Simmons, Vice Mayor Benzan and Councillor Carlone
Though I think it would be a good idea to ensure a sufficient supply of parking in and around Central Square, I can't help but note that if a proposal to add commercial parking was made a decade or two ago it would have been aggressively opposed by some activists. Those were the days when the Parking Freeze was giving way to the current Vehicle Trip Reduction Ordinance. Times have changed, vehicles run much cleaner, and there are now other competing priorities. Perhaps additional parking capacity at the Green Street Garage would replace what might be lost by building on surface parking lots elsewhere in Central Square. Perhaps the idea is to calm the fears of those who see the building of new housing as an existential threat to the well-being of their on-street parking. In any case, it's a discussion worth having. - Robert Winters
---
THE SEGREGATION OF THE STREET - With all the swirling controversy about whether to install segregated bicycle facilities on Pearl Street, this article provides a great perspective on the difference between perceived safety and actual safety.
---
Perhaps it's time to rein in the Cambridge Bicycle Committee
The Cambridge Bicycle Committee (or, to be more precise, current and former members and others who share their mindset) has a Facebook page [Cambridge Bikes!]. It's been interesting hearing what some of the members are saying in response to Councillor Toomey's proposed Order questioning the removal of parking on one side of Pearl Street from Central Square to the Charles River in order to segregate cyclists. Here are some gems:
Tom Meek - The message is the city wants to get more people on bikes.... Don't like it make a pretty $$$ on your house and move elsewhere where you can buy a pad with a big driveway for 1/2 as much lol
Matt Carphree - Street parking in Cambridge costs the user less than 7 cents a day. A nickel, and two pennies to rent 200 square feet of prime real estate in one of the thirty most population dense cities in the USA. Hellas yeah if I was on that crack, I'd fight anyone threatening to take it away!
Matt Carphree (Parking scarcity is never a supply problem. It's a pricing problem)
Douglas M. Kline - In addition to the points already made (to amplify one, an annual resident parking sticker should cost at least $1,000 and as much as $2,000 in some neighborhoods and that would put a dent in the demand for on-street parking), no one promised that on-street parking would always be available and life is full of risk. Car owners have a lot of nerve assuming that they will always have what they should never have been given in the first place. Also the distinction between adding cars and taking away spots is hardly more than semantic unless you intend to take away a spot for each car that is sold or whose owner moves away and doesn't expect to regularly use the space any more such that spots for cars currently owned by current residents are grandfathered in and others are eliminated and all on-street parking will eventually be eliminated.
The more I hear from these people of the Cambridge Bicycle Committee the more I am convinced that they're out of control and that Councillor Toomey's Order is both timely and appropriate. Rarely have I seen this level of self-righteous hostility in Cambridge - and I'm a year-round daily cyclist. - Robert Winters
PS - Here's a sterling example of a graphic that violates every principle of statistical survey design:

The image on the left suggests a cyclist about to be run over by a bus. That's the image used to illustrate the Pearl Street design option the Bicycle Committee and its staff does not want you to choose. It's in the online survey instrument they circulated among people they hope will vote the way they want. The inclusion of this graphic renders the survey invalid. That's Statistics 101.
---
We're taking some time off from Cambridge InsideOut. We hope to be back on the air in May 2015.
Recent Broadcasts of Cambridge InsideOut [complete list of shows]
Aug 19 - Cambridge InsideOut Episodes 79 and 80 with Terry Smith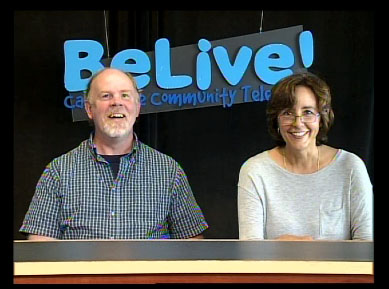 Aug 5 - Cambridge InsideOut Episodes 77 and 78 with Patty Nolan
July 29 - Cambridge InsideOut Episodes 75 and 76 with Brian Corr
July 22 - Cambridge InsideOut Episodes 73 and 74 with Marc McGovern
July 15 - Cambridge InsideOut Episodes 71 and 72: News and Events, July 2014
July 1 - Transportation Safety w/guest Rozann Kraus
June 24 - Cambridge InsideOut Episodes 67-68: More News Around Town
June 17 - Tales from the Democratic Convention and other news from around town
June 10 - Cambridge InsideOut Episodes 63 and 64 with Glenn Koocher
We had a great time doing these shows with the man who invented the original Cambridge InsideOut - Glenn Koocher.
June 3 - Cambridge InsideOut Episodes 61 and 62 – News and Commentary
Watch Cambridge InsideOut on CCTV every Tuesday at 5:30pm and 6:00pm. The co-hosts are Susana Segat and Robert Winters.
A new report is estimating that the greater Boston area will need another 435,000 new housing units by 2040 to lure new workers and accommodate an aging population. [Reports available here]
Note: When comparing the peak population of Cambridge back in the 1950s (over 120,000) to what it is today (perhaps 107,000) it's important to keep in mind that families were typically much larger then. It's also the case that what people find acceptable in terms of living space and amenities has changed dramatically over six decades. This translates into considerably more "units" of housing (and higher density) in Cambridge if the population should rise to levels close to what they were in days of yore.
---
K2C2 Final Reports Released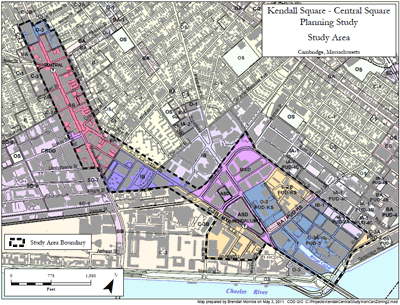 The final reports for Kendall Square and Central Square are now available for download. Zoning discussions based on the recommendations of the K2 and C2 Advisory Committees, which are encapsulated in these reports, will continue in 2014.
Community Development Department
Kendall Square Central Square Planning Study (K2C2)
Central Square Final Report 2013 Part 1, December 2013
Central Square Final Report 2013 Part 2, December 2013
Kendall Square Final Report 2013 Part 1, December 2013
Kendall Square Final Report 2013 Part 2, December 2013
This comprehensive planning effort guided by stakeholder advisory committees, City staff, and a team of multidisciplinary consultants led by Goody Clancy, developed a vision and master plan for Central Square, Kendall Square, and the area South of Main Street (including the Osborn Triangle) connecting the two squares. Both final reports are divided into two parts; in each case you will need to review both parts to read the entire report.
---
The Advent of PR in Cambridge
originally published in the Cambridge Civic Journal on Feb 12, 1998
---
April 2, 2015 - Another fun April Fool's Day
April 2, 2013 - Well, that was fun. Thanks to everyone for being such a sport on April Fool's Day.
Central Square Advisory Committee 2011/2012 Recommendations (Nov 28, 2012)
The Neverending Study of Central Square
Aug 11, 2012 - While preparing to write a series of essays on Central Square, I put together the following list of Central Square studies culled from a variety of sources. I have originals for most of these. If you know of any others, please let me know. - Robert Winters
Feb 1980 - CDD report entitled "Central Square - Commercial Area Revitalization District
June 1980 - CDD booklet entitled "Facade Improvements" with focus on Central Square
Apr 1983 - "Central Square Report" produced by City Council's Central Square Subcommittee (study began in 1980 or 1981)
1987 - A report produced in 1987 about a Subcommittee that allegedly built on the 1983 report (may be same as Central Square Action Plan)
Nov 1987 - Central Square Action Plan
1989 - Draft Central Square Development Guidelines
May 1993 - Results of the "Mayor's Forum on Central Square"
Oct 1993 - Report by the Committee to Promote and Enhance Central Square Now!
Aug 1994 - A Study of the Visual Images and Signage of Central Square (CDD)
May 1995 - Central Square Improvements Project, Master Plan Report
May 1995 - An Urban Design Plan for Central Square (executive summary)
May 2001 - Summary Notes from "A Conversation about Central Square"
Feb 2000 - The Gibbs Report, Central Square Commercial Market Study
Oct 2004 - Central Square, Cambridge - Rising Fortunes at a Regional Crossroads (Rekha Murthy)
Dec 2004 - Reviving a Traditional City - Central Square, Cambridge, gets a facelift (Rekha Murthy)
June 2005 - Street Media: Ambient Messages in an Urban Space - a photographic analysis of Central Square, Cambridge, Massachusetts (Rekha Murthy)
2009 - CDD Central Square Customer Intercept Survey Report
2011 - Central Square Market Profile
2011 - Red Ribbon Commission Study Report
2012 - Goody/Clancy report and recommendations
2013 - K2C2 Final Reports
---
THE TASTY DINER of HARVARD SQUARE - A film by Federico Muchnik (33½ minutes)
FYI - Current Rules and Goals: Cambridge City Council & Cambridge School Committee
---
---
June 7, 2009 - Once upon a time there was a civic organization in Cambridge known as the Cambridge Civic Association (CCA). It was formed in 1945 out of several organizations that had been existed through the 1930s and that had lobbied the state legislature to create the Plan E Charter option (1938) which featured a city manager form of government and proportional representation elections for city council and school committee. These reforms were central to model charter reform movements active in the United States from the early 1900s. The central theme of the CCA in its early days was "good government" in the sense of being anti-patronage and for professionally managed local government. This changed with the introduction of rent control at the end of the 1960s after which the CCA shifted leftward and became permanently lashed to the mast of the rent control vessel. Though the CCA still exists on paper (I believe), it rapidly declined after the statewide abolition of rent control (late 1994) and essentially disappeared a decade later (early 2005).
I bring up the ghost of the CCA today only to point out that when it was created it had some very admirable goals. Here's the original Mission Statement of the CCA:
Purposes: This association is formed for the following purposes:
1. To promote businesslike, honest, and efficient conduct of local government, open to public scrutiny.
2. To induce residents to take an active interest in the affairs of the City of Cambridge.
3. To encourage and support the candidacy of men and women seeking election to public office and to support intelligent, wholesome leadership in public affairs.
4. To assure that the best qualified persons are appointed to positions in the City government after consideration of all qualified candidates.
5. To promote among the citizens of Cambridge equitable distribution and benefit of public services and equal opportunity for economic security, education, and social advancement.
These are pretty good founding principles for a civic organization and I'm tempted to say that some should be incorporated into the recently adopted City Council's Goals for FY2010 (adopted Feb 2, 2009). In fact, of the 22 current goals, the only one that comes close is: "An increased level of recruitment and opportunities for membership on boards and commissions." The current Council goals emphasize things like "fostering community" via block parties and such, though one has to wonder if the City should be promoting these activities or just getting out of the way so that people can foster community on their own. The goals also seem to put some emphasis on developing "successful nightlife campaigns" while mentioning nothing about promoting ordinary "daytime" economic activity that supports the everyday needs of residents.
One founding principle of the CCA that fell into disuse over the years is listed above as #3: To encourage and support the candidacy of men and women seeking election to public office and to support intelligent, wholesome leadership in public affairs. Indeed, I can personally testify to the fact that in its dying years the only reason the CCA made endorsements at all was because the CCA-endorsed incumbents wanted the benefit of having an advertised CCA slate of candidates that would help secure their reelection. There was precious little effort to recruit new candidates or to support them. Today, the benefits of incumbency are greater than ever. The cost of political campaigns have become absurdly high and most of the incumbents now have (City paid) staff who are inevitably political appointees who directly or indirectly assist in the reelection efforts of their bosses. The deck is increasingly stacked against challengers. Furthermore, the salary and benefits for elected councillors are now so sweet that it is unlikely that any of them would ever want to move on to another job.
With this background in mind, I would like to encourage all Cambridge residents to help level the playing field by finding out about this year's challengers for seats on the Cambridge City Council and the Cambridge School Committee. This is not meant as a dig against any particular incumbent as much as an appeal to support the challengers in what is a difficult and laudable effort. Please see the Cambridge Candidate Pages for the current list of expected candidates. Then use your own judgment - don't expect me or anyone else to do it for you.
Speaking of this year's municipal election, there are some activists who are now expending great effort to attack the City Manager and most of the current City Council. That is not nor has it ever been the intention of the Cambridge Civic Journal or its editor. Candidates are now being seduced by financial promises from one angry fellow with a Brattle Street address and a basketful of grudges. Former CCA Executive Board members from its darkest and most manipulative days are oozing up from the civic swamp trying to at last make good on their failed campaigns of the early 1990s to oust city manager Bob Healy.
It's entertaining to watch people who have primarily earned disrespect in their civic efforts try to capitalize on the recent Monteiro jury decision as a means of realizing their decades-old vendettas. Conveniently forgotten in their recent letters to Cambridge's "oldest weekly newspaper" are the many achievements of City Manager Bob Healy, the strong financial position of the City, and the recent 8-1 vote of confidence bestowed upon Mr. Healy in granting him a three year contract extension. Also missing in this testimony is the fact that virtually all affirmative action in the hiring of employees and department heads has taken place on Mr. Healy's watch. These letters also fail to divulge how long these writers have been carrying their jealousy and anger toward Mr. Healy for actually orchestrating progress in Cambridge while the best they could ever do is snipe from the sidelines. - Robert Winters
---
This Old Land of Cambridge - The true story of the geological history of Cambridge - by George Ehrenfried
Sadly, George passed away (Jan 5, 2010) at the age of 96. He led many a geology-themed hike with the AMC Local Walks/Hikes.
Pen Portraits of Prominent People - by Henry J. Mahoney Editor, Cambridge Sentinel - 1923
This book was published c. 1923 and features very witty one-page "pen portraits" (with photo) of prominent Cantabrigians of the day. I'll be adding names alphabetically as time permits. There are 182 portraits in the book.
It comes to mind that there may be some value in expanding these profiles to other prominent Cantabrigians who arrived on the scene after 1923, including prominent Cantabrigians of today. With this in mind, I extend the invitation to any and all who may wish to contribute their own "pen portraits" of Cambridge people. Contributions do not necessarily have to be in the style of Mr. Mahoney. Inclusion is, as always, subject to the erratic discretion of the editor.
Special thanks to Karen Welch for sending me the book. - RW
---
Cambridge School Volunteers is looking for people who can give one to two hours per week to help students in the Cambridge Public Schools, grades K through 12. No experience necessary. Call 617-349-6794 or e-mail csv@cpsd.us for more details.
Oliver Wendell Holmes – Morning Exercises of December 28, 1880
As recorded in the book 250th Anniversary of the Settlement of Cambridge (1881)
---


Robert Winters, Editor
Cambridge Civic Journal
(about me - updated!!)




The Cambridge Civic Journal is an independent newsletter of civic affairs in the City of Cambridge, Massachusetts. It is published as a public service by Central Square Publications. All items are written by Robert Winters unless otherwise noted. [Of course, I do sometimes forget.]

Thoughts for these times:
Men never do evil so completely and cheerfully as when they do it from religious conviction. -- Blaise Pascal

''This is our fucking city, and nobody is gonna dictate our freedom. Stay strong.'' -- David Ortiz
Subscribe to the Cambridge Civic Journal.
Specify in your message whether you wish to receive each new e-mail version or if you wish to be notified when the online versions are available at this web site. Under no circumstances will the subscription list be made available to any third party.
"The Number One thing I would emphasize is that journalists and bloggers would do well to see themselves as partners in the provision of information and that each can benefit greatly from the other. I've never seen this as a competition. It is especially true these days that local papers and young journalists are not very well-versed in the communities they serve. Much of the institutional memory has either died out or been bought out." -- Robert Winters, mathematician and creator of the Cambridge Civic Journal, an online publication about Cambridge, MA (rwinters.com)
Jorkin: "Come, come, Mr. Fezziwig, we're good friends besides good men of business. We're men of vision and progress. Why don't you sell out while the going's good? You'll never get a better offer. It's the age of the machine, and the factory, and the vested interests. We small traders are ancient history, Mr. Fezziwig."
Fezziwig: "It's not just for money alone that one spends a lifetime building up a business, Mr. Jorkin…. It's to preserve a way of life that one knew and loved. No, I can't see my way to selling out to the new vested interests, Mr. Jorkin. I'll have to be loyal to the old ways and die out with them if needs must."
Scrooge: "I think I know what Mr. Fezziwig means, sir."
Jorkin: "Oh, you hate progress and money, too, do you?"
Scrooge: "I don't hate them, sir, but perhaps the machines aren't such a good thing for mankind, after all."
Memorable scene in "A Christmas Carol"