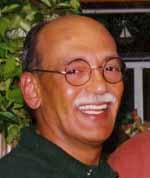 Robert M. Stevens, 66, of New Bedford, died May 19, 2013, unexpectedly at St. Luke's Hospital surrounded by his loving family.
Born and raised in New Bedford, he was the son of the late William B. and Rita (Pinto) Stevens.
Mr. Stevens was formerly employed as the Assistant Secretary of Administration and Finance under the Administration of Governor Michael Dukakis. He then worked for many years as the Director of Veterans Services for the City of Cambridge until his retirement.
He served two tours of duty in the U.S. Army, as part of the Military Intelligence Unit, during the Vietnam War. He was a graduate of UMass Dartmouth (formerly Southeastern Massachusetts University) where he served as the first minority student trustee.
Survivors include four sons, Derek Stevens and his wife Sheila, Christian Stevens and his wife Dayra, and Darren Drayton, all of New Bedford, and Sean Oliveira of Waldorf, MD; a brother, Michael Stevens of New Bedford; two sisters, Kathleen Stevens of Truro and Barbara Stevens of Provincetown; 14 loving grandchildren; and many nieces and nephews.
He was the father of the late Tami J. Roderick and brother of the late Richard Stevens, Bruce Stevens, and William B. Stevens, Jr.
His visiting hours will be held on Thursday from 4-8 PM in the Saunders-Dwyer Home for Funerals, 495 Park St., New Bedford. Following cremation, a private family burial service will be held at the Massachusetts National Cemetery in Bourne. In lieu of flowers, remembrances may be made to the Global Learning Charter Public School, 190 Ashley Blvd., New Bedford, MA 02746. For directions and guestbook, please visit www.saundersdwyer.com.