There are basically two noteworthy items on this week's agenda and both of them relate to Kendall Square. The first is the Ames Street Land Disposition. There's a public hearing at 6:30pm on the proposal by the City of Cambridge to sell a 20-foot wide strip of public land along the eastern edge of Ames Street between Main Street and Broadway in Kendall Square. The land would be sold to a private owner with the condition that it would be combined with adjacent land to enable the construction of a residential building with ground floor retail. The public hearing is being held pursuant to the requirements of Section 2.110.010 of the Cambridge Municipal Code, regarding Disposition of City Property. [text from the call of the meeting]
The Cambridge Revelopment Authority (CRA) supports the plan as does the Planning Board as indicated in:
City Manager's Agenda #3. Transmitting communication from Richard C. Rossi, City Manager, relative to a Planning Board recommendation supporting the proposed Ames Street Land Disposition.
Date: Dec 3, 2013
Subject: Ames Street Land Disposition
Recommendation: The Planning Board supports the proposed disposition.

To the Honorable, the City Council,

The Planning Board recommends that the land disposition proceed in accordance with the terms outlined in the City Manager's Nov 18, 2013 report, the attached Request for Proposals and the winning proposal submitted by Boston Properties Limited Partnership.

The Board finds that the report adequately and correctly summarizes all of the considerations with regard to the land disposition. The proposal has many significant benefits to the City, including the addition of new housing to Kendall Square and the activation of the streetscape with ground-floor retail and small open spaces on Ames Street. The financial arrangements will also benefit the City, as the report indicates that the price offered for the Property is within the range of the City's independent appraisals, that the buyer will also assume responsibility for public roadway improvements associated with the project, and that the project will generate ongoing tax revenue for the City. The report also indicates some potential drawbacks of the proposed project, such as shadow impacts, which will be assessed by the Planning Board as part of its project review requirements.

Taking into account all considerations with regard to this disposition, the Planning Board finds that it is an appropriate action to be taken by the City.

Respectfully submitted for the Planning Board,
Hugh Russell, Chair
Most reasonable people, including most or all of the city councillors, will likely agree with the assessment of the Planning Board. Nonetheless, the hearing is likely to bring out those who continue to object to last year's approval of the downsizing of a rooftop garden in exchange for a greatly extended time during which it will be maintained for public access (an additional 28 years). Some will likely testify that this is some kind of scandalous giveaway to big, bad corporations. Others will argue that the City should somehow try to leverage the delivery of All That Is Good in exchange for this unimportant strip of the public way. This is nothing but bad political theater.
Communication #3. A communication was received from Charles Teague, 23 Edmunds Street transmitting his reply to Cambridge City Council response on Open Meeting Law Complaint dated Nov 5, 2013.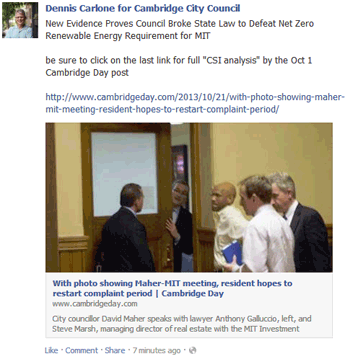 Speaking of bad political theater, the meaningless saga continues of the unhappy activist filing Open Meeting Law complaints when votes don't go his way. This week's agenda brings a tedious 76 page communication from Charles Teague, the new right-hand-man of Councillor-Elect Dennis "Pearl Harbor" Carlone. The thought that this kind of pointless harassment may become the norm for the new City Council is enough to drive away even long-term Council-watchers like me. Is this what civic activism has degenerated into? Will every significant City Council vote now be subject to complaints filed with state agencies?
In baseball, when the 3rd out is registered in the bottom of the 9th, you accept your loss and head for the locker room. You don't file a protest with the Baseball Commissioner. The antics of Teague and company are the civic equivalent of bad sportsmanship, and this may soon become the norm.
You can never predict how an idiotic complaint like this will ultimately turn out, but the incident that was the subject of the complaint is simple to describe:
(a) MIT filed several iterations of a zoning petition for an area in and around Kendall Square where MIT owns a significant amount of property. The petition went through many public hearings before finally coming to a vote on Apr 8, 2013.
(b) During the weeks and months leading up to ordination, MIT representatives met with all of the city councillors and developed a memorandum of understanding that included substantial commitments.
(c) Prior to final ordination on the night of the vote, a series of amendments were proposed by several councillors. Councillor Kelley objected strenuously to the late arrival of the proposed amendments. There were so many opportunities to propose amendments during the months, weeks, and days leading to this vote, that there was no excuse for trying to rush these amendments through.
One such proposed amendment by Councillor vanBeuzekom would have required "net zero" energy standards on any new buildings. This enjoyed a temporary victory on a 5-3-1 vote with Councillors Cheung, Decker, Simmons, vanBeuzekom, and Mayor Davis voting YES; Councillors Kelley, Maher, and Toomey voting NO; and Councillor Reeves voting PRESENT. This led to very clear expressions from MIT representatives that such a requirement would invalidate the commitments to which they had previously agreed. This was communicated to Councillor Maher and through him to Mayor Davis. When informed that this burden could threaten MIT's other commitments, Mayor Davis reluctantly asked to change her vote from YES to PRESENT which defeated the amendment 4-3-2. This was a vote change that Mayor Davis clearly did not relish, but she did it for the greater goal of passing the entire package. All of this took place in full view of the public.
(d) The MIT/Kendall zoning petition was then ordained on a 7-1-1 vote with Councillor vanBeuzekom voting NO (as expected) and Vice Mayor Simmons voting PRESENT. The revised Letter of Commitment from MIT was approved unanimously.
There was NOTHING unusual in what transpired that evening. However, a photograph of MIT representatives explaining their position to Councillor Maher was used to claim that some sort of shenanigans had taken place. This led to a complaint being filed long after the period for such complaints had expired. The City Clerk and City Solicitor drafted a response that was approved by the City Council, and we now get this 76 page followup from the disgruntled political activist.
Many people have noted that the current City Council has at times engaged in pointless interpersonal bickering, and this is fair criticism. However, unless some of the newly elected councillors and the incumbent councillors take some affirmative action early in the 2014-15 term to set a good tone, we may find ourselves looking back longingly toward the relative peace and harmony of the 2012-13 City Council. - Robert Winters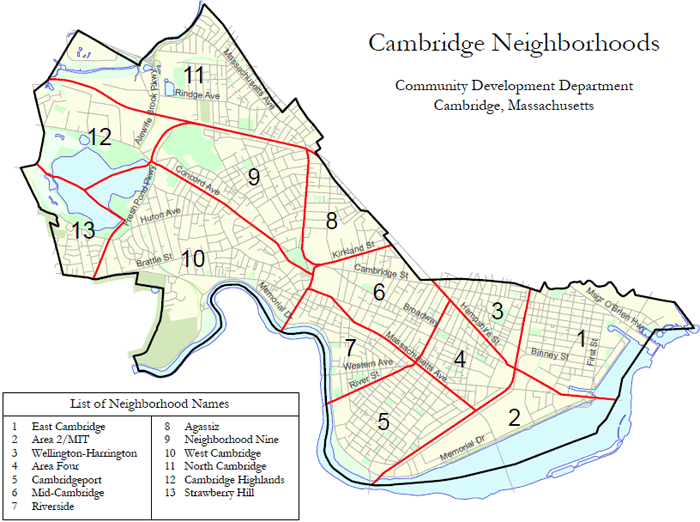 ---
Cambridge Remembers Nelson Mandela
The City of Cambridge is collaborating with South Africa Partners in planning a special remembrance in honor of Nelson Mandela on Monday, Dec. 9, at Cambridge City Hall. Further details about this plan will be released on Monday.
"The City of Cambridge shares its sorrow with the world over the loss of this great leader and we celebrate his life and contributions to South Africa and the world." - Cambridge Mayor Henrietta Davis
---
Changes in Cheung Surplus Transfer (Official to Recount)
Candidate
expected
Official
Recount
Gain
Kelley, Craig
66
74
65
-9
Maher, David
63
68
69
+1
vanBeuzekom, Minka 
60
64
56
-8
McGovern, Marc
64
61
60
-1
Simmons, Denise
47
49
51
+2
Reeves, Ken
46
37
46
+9
Seidel, Sam
40
37
47
+10
Mazen, Nadeem
33
36
41
+5
Smith, Jefferson
31
28
26
-2
Benzan, Dennis
24
25
20
-5
Carlone, Dennis
27
25
21
-4
Toomey, Tim
26
24
24
0
von Hoffmann, Kristen
19
20
20
0
House, Janneke
26
19
21
+2
Lee, James
10
10
11
+1
Leslie, Logan
10
10
14
+4
Vasquez, Luis
7
9
11
+2
Phillips, Lesley
4
7
4
-3
Mirza, Mushtaque
6
5
4
-1
Mello, Gary
3
4
5
+1
Williamson, James
2
2
0
-2
Moree, Gregg J. 
0
1
0
-1
Yarden, Elie
1
1
0
-1
Peden, Ron
2
0
1
+1
write-ins
0
0
0
0
Total surplus
617
616
617
1
Dec 7 Update: Based on that actual ballot data, the expected
values for the surplus transfers are shown in the 1st column.
RECOUNT UPDATE (Dec 7, 5:15pm)
The distribution of Leland Cheung's 617 surplus ballots was completed today. There were a few big swings in the number of ballots transferred to particular candidates, but it appears at this point unlikely that there will be any change in who will ultimately be elected.
The candidates who gained the most in the new surplus distribution are Sam Seidel (+10) and Ken Reeves (+9), though neither will ultimately benefit from these gains. Nadeem Mazen also picked up an additional 5 ballots. The candidates who suffered the greatest loss from Original Count to Recount are Craig Kelley (–9) and Minka vanBeuzekom (–8). Dennis Carlone also lost 4 ballots in this surplus distribution.
What this basically means is that the likely outcome when this gets to the deciding round (the 17th Count this time) will be that Craig Kelley and Nadeem Mazen should have approximately the same number of ballots (7th and 8th place) followed by Dennis Carlone (9th place); and the gap between Carlone and Minka vanBeuzekom will likely be greater than in the original count.
Perhaps the only uncertainty in this may be in how the additional ballots picked up by Sam Seidel and Ken Reeves may eventually find their way to the continuing candidates when they are counted out in the 15th and 16th Counts.
It was anticipated that as soon as Leland Cheung's surplus distribution was made official, the election workers would commence the counting out of candidates with fewer than 50 ballots (Gregg Moree), then Ron Peden, then James Williamson. This all depended upon how far they would get before the expected close of the day at around 5:00pm, but they never got past the 2nd Count. The counting out of minor candidates will begin Monday morning at 8:30am. The ballots of most, but not all, of the continuing candidates have already been matched and sequenced in accordance with the original count, so many of the next few rounds should go relatively quickly. - Robert Winters
---
RECOUNT UPDATE (Dec 6)
The 2013 Cambridge City Council Election Recount finished its fifth day today. The distribution and counting of ballots according to #1 Votes was completed early in the day and the results announced (see below). The rest of the day was dedicated to matching Leland Cheung's #1 paper ballots with replica ballots created from the official electronic record of his #1 votes. This is necessary prior to any drawing and distribution of surplus ballots to other candidates (2nd Count) because of the legal requirement that ballot transfers must follow the same course as in the official results unless the discovery of an error warrants otherwise.
The matching of ballots and ballot records will continue on Saturday and, hopefully, the 2nd Count will then be carried out. Once that is complete, most of the uncertainty about the eventual election outcome will be removed since subsequent transfer rounds as candidates are defeated should proceed more or less as they did in the Official Count. The matching of paper ballots and ballot records will occur in later rounds whenever ballot order is relevant. - Robert Winters
Revised Ward & Precinct Totals for City Council Election (Recount)
Differences between Official Results (Nov 15) and Recount


panoramic photo by Tom Stohlman
---
A Neverending Stream of Election 2013 Facts
Here's some information about voter turnout in individual precincts (based on City Council votes) in the recent municipal election:
Ward
Precinct
Reg. Voters
Active Voters
Voted
% of Reg. Voters
% of Active Voters
1
1
2069
1460
397
19.2
27.2
1
2
1931
1331
524
27.1
39.4
1
3
2114
1510
576
27.2
38.1
2
1
2105
1471
524
24.9
35.6
2
2
1015
624
44
4.33
7.1
2
3
1550
1036
126
8.13
12.2
3
1
2122
1465
519
24.5
35.4
3
2
1352
896
288
21.3
32.1
3
2A
1029
678
221
21.5
32.6
3
3
2395
1517
542
22.6
35.7
4
1
2498
1703
672
26.9
39.5
4
2
2751
1900
634
23
33.4
4
3
1077
673
204
18.9
30.3
5
1
2275
1586
556
24.4
35.1
5
2
2394
1778
680
28.4
38.2
5
3
1878
1345
492
26.2
36.6
6
1
2489
1781
643
25.8
36.1
6
2
2536
1690
511
20.1
30.2
6
3
2576
1825
642
24.9
35.2
7
1
2375
1712
662
27.9
38.7
7
2
1789
1061
218
12.2
20.5
7
3
1402
1019
167
11.9
16.4
8
1
2038
1418
368
18.1
26.0
8
2
1941
1396
445
22.9
31.9
8
3
1139
669
152
13.3
22.7
9
1
2588
2164
993
38.4
45.9
9
2
2540
2029
850
33.5
41.9
9
3
2357
1843
831
35.3
45.1
10
1
2606
1942
791
30.4
40.7
10
2
2569
2024
883
34.4
43.6
10
3
2251
1597
616
27.4
38.6
11
1
2024
1429
472
23.3
33.0
11
2
2753
2121
902
32.8
42.5
11
3
2090
1617
701
33.5
43.4
Citywide
70618
50310
17846
25.3
35.5
Note that whether you use percentage of all registered voters or percentage of active voters, Ward 9, Precinct 1 comes out on top and Ward 2, Precinct 2 is at the bottom.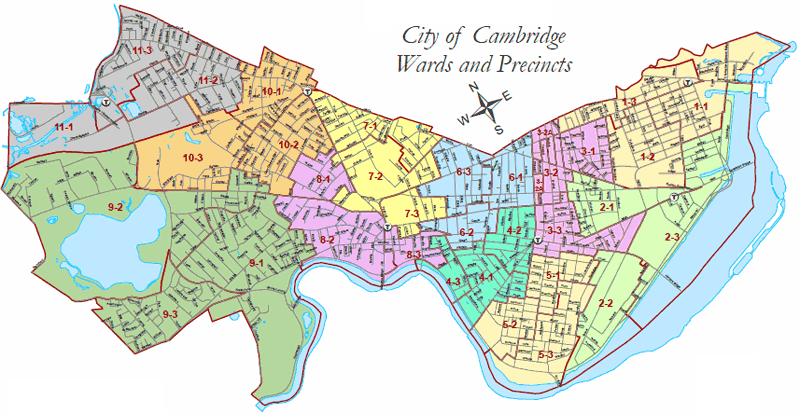 This Monday should be an interesting day. The City Council Recount commences at 8:30am at the Moore Youth Center (12 Gilmore St. by Hoyt Field), and at 5:30pm the City Council will meet in City Hall at the same time the Central Square Advisory Committee will be meeting next door in the Lombardi Building to hear testimony and discuss a housing proposal for 10 Essex Street. [The Planning Board will hold a hearing on Tuesday on the same proposal.]
There's not a single City Council Order on the agenda this week, but there are a few noteworthy items as the 2012-13 City Council heads into its final month.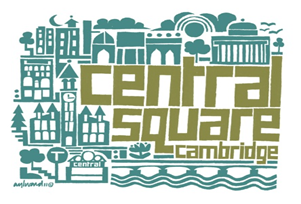 Manager's Agenda #3. Transmitting communication from Richard C. Rossi, City Manager, relative to Council Order No. 28, dated Sept 9, 2013, regarding establishing a committee to monitor the progress of the non-zoning recommendations of the C2 Committee.
The proposal is to fold consideration of the non-zoning C2 recommendations into the scope of the existing Central Square Advisory Committee which has been around since the creation of the Central Square Overlay District over two decades ago. This will coincide with upcoming appointments to the committee to bring it back up to the 9 members specified in the ordinance. The zoning-related recommendations of the C2 Committee (as developed by CDD staff) will likely be where most of any controversy will play itself out, but the non-zoning recommendations will have a lot to do with defining the fabric of Central Square in the sense of "place-making."
Manager's Agenda #4. Transmitting communication from Richard C. Rossi, City Manager, regarding the creation of a short term task force that will consider drafting a municipal ordinance related to outdoor lighting.
The Teague Petition on this subject may have died last year due to its shortcomings, but a task force was promised to come up with a more appropriate proposal. These appointments mark the beginning of that process. Recommendations are anticipated in the spring. It's not surprising that Charles Teague is one of the appointed members, but it will be interesting to see whether or not he can work cooperatively with the other 11 appointees. As with most things it's better to have a balanced committee that can gather input from all stakeholders. This also applies to the soon-to-be-appointed "Net Zero" task force.
Unfinished Business #13. A communication was received from Donna P. Lopez, City Clerk, transmitting a report from Councillor David P. Maher, Chair of the Ordinance Committee, for a public hearing held on Nov 7, 2013 on the petition received from Boston Properties to amend the Zoning Ordinances and Zoning Map in the Ames Street area. The question comes on passing to be ordained on or after Dec 2, 2013. Planning Board hearing held Nov 12, 2013. Petition expires Feb 5, 2014.
Communications #2. A communication was received from Kathleen Born, Chair, Cambridge Redevelopment Authority Board transmitting the Cambridge Redevelopment Authority Support for Boston Properties Ames Street Zoning Petition including a response to a request from the Ordinance Committee regarding fast food permits for the MXD District together with a Letter of Intent for the Ames Street Housing Project between the Cambridge Redevelopment Authority and Boston Properties Limited Partnership.
The Ames Street Zoning Petition has another City Council hearing scheduled for Dec 9, so this matter won't be voted until at least then. The communication from CRA Chair Kathy Born provides some details behind various provisions in the petition which is primarily about facilitating construction of housing on this stretch of Ames Street.
Committee Report #1. A communication was received from Donna P. Lopez, City Clerk, transmitting a report from Councillor David P. Maher, Chair of the Ordinance Committee, for a public hearing held on Nov 20, 2013 to discuss a petition by the City Manager to amend the Zoning Ordinances of the City of Cambridge to define and list Registered Marijuana Dispensary, delete Section 11.700 and create a new Section 20.700 entitled Medical Marijuana Overlay Districts.
The proposed ordinance change is now taking shape, but it's probably a good idea to think of this in conjunction with proposed statewide ballot questions that could potentially legalize marijuana outright. It would be reasonable to speculate that regulations now being developed for dispensaries would become the basis for future regulations for general sale of this drug should any such ballot questions prevail.
Committee Report #2. A communication was received from Donna P. Lopez, City Clerk, transmitting a report from Councillor David P. Maher, Chair of the Ordinance Committee, for a public hearing held on Nov 21, 2013 to conduct a public hearing on a zoning petition filed by Christopher H. Lutz, et al requesting the City Council to amend the Zoning Ordinance of the City of Cambridge by rezoning an area on the northern border of Richdale Avenue from Upland Road to Walden Street from its C1-A designation to residential C-1.
There's not much to say about this except to note that the petition arose from a proposed redevelopment of the former Hathaway Bakery on Richdale Ave. for up to 54 units of new housing. Because the petition is opposed by owners of more than 20% of the affected area, it will require 7 votes out of 9 city councillors to pass the petition. As this may be difficult to achieve, it may well be the case that negotiation will be the preferred course of action for those unhappy with the proposed development. - Robert Winters
---
Different Measures of Popularity of City Council Candidates
Anyone familiar with Cambridge municipal elections knows the importance of the #1 vote in electing favored candidates, but there are other measures of popularity that provide insight into the general acceptability of candidates to voters. Shown below are the standings of the top 12 candidates showing #1 Vote Totals; number of ballots listing candidate either #1 or #2 (Top2); number of ballots listing candidate #1, #2, or #3 (Top3); number of ballots listing candidate anywhere from #1 through #5 (Top5); and number of ballots listing candidate anywhere from #1 through #9 (Top9). There was a total of 17,743 valid ballots in the City Council election.
| | | |
| --- | --- | --- |
| Candidate | #1 Votes | Rank1 |
| Cheung, Leland | 2391 | 1 |
| Maher, David | 1464 | 2 |
| Toomey, Tim | 1457 | 3 |
| Benzan, Dennis | 1301 | 4 |
| McGovern, Marc | 1187 | 5 |
| Simmons, Denise | 1184 | 6 |
| Carlone, Dennis | 1151 | 7 |
| Kelley, Craig | 1093 | 8 |
| Mazen, Nadeem | 985 | 9 |
| Reeves, Ken | 934 | 10 |
| vanBeuzekom, Minka  | 875 | 11 |
| Seidel, Sam | 701 | 12 |

| | | |
| --- | --- | --- |
| Candidate | Top2 | Rank2 |
| Cheung, Leland | 4406 | 1 |
| Maher, David | 2646 | 2 |
| Simmons, Denise | 2531 | 3 |
| Toomey, Tim | 2438 | 4 |
| McGovern, Marc | 2266 | 5 |
| Benzan, Dennis | 2208 | 6 |
| vanBeuzekom, Minka  | 2017 | 7 |
| Kelley, Craig | 2009 | 8 |
| Carlone, Dennis | 1968 | 9 |
| Reeves, Ken | 1964 | 10 |
| Mazen, Nadeem | 1944 | 11 |
| Seidel, Sam | 1503 | 12 |

| | | |
| --- | --- | --- |
| Candidate | Top3 | Rank3 |
| Cheung, Leland | 6082 | 1 |
| Simmons, Denise | 3847 | 2 |
| Maher, David | 3600 | 3 |
| McGovern, Marc | 3275 | 4 |
| Toomey, Tim | 3231 | 5 |
| vanBeuzekom, Minka  | 3079 | 6 |
| Benzan, Dennis | 3032 | 7 |
| Reeves, Ken | 2887 | 8 |
| Kelley, Craig | 2861 | 9 |
| Mazen, Nadeem | 2720 | 10 |
| Carlone, Dennis | 2645 | 11 |
| Seidel, Sam | 2363 | 12 |
| | | |
| --- | --- | --- |
| Candidate | Top5 | Rank5 |
| Cheung, Leland | 7999 | 1 |
| Simmons, Denise | 5721 | 2 |
| Maher, David | 4912 | 3 |
| vanBeuzekom, Minka  | 4685 | 4 |
| McGovern, Marc | 4629 | 5 |
| Toomey, Tim | 4336 | 6 |
| Kelley, Craig | 4233 | 7 |
| Reeves, Ken | 4172 | 8 |
| Benzan, Dennis | 3966 | 9 |
| Seidel, Sam | 3828 | 10 |
| Mazen, Nadeem | 3727 | 11 |
| Carlone, Dennis | 3437 | 12 |

| | | |
| --- | --- | --- |
| Candidate | Top9 | Rank9 |
| Cheung, Leland | 9299 | 1 |
| Simmons, Denise | 7181 | 2 |
| vanBeuzekom, Minka  | 6253 | 3 |
| Maher, David | 6196 | 4 |
| McGovern, Marc | 5822 | 5 |
| Kelley, Craig | 5630 | 6 |
| Toomey, Tim | 5547 | 7 |
| Reeves, Ken | 5400 | 8 |
| Seidel, Sam | 5179 | 9 |
| Benzan, Dennis | 5004 | 10 |
| Mazen, Nadeem | 4687 | 11 |
| Carlone, Dennis | 4172 | 12 |
---
---
---
---
---
December Programs at Fresh Pond Reservation

These events are FREE and open to the public. Children are welcome in the company of an adult.

CHRISTMAS BIRD COUNT BIRD WALK
Date: Sunday, December 15
Time: 12:30 to 2:30pm
Place: Meeting place given upon registration
This year, for the first time, our December bird walk will coincide with the National Audubon Society's 114th annual Christmas Bird Count. Fresh Pond is important to the CBC because it is the only location where several of the diving duck species are found. We will join tens of thousands of other birders throughout the Americas who identify and count all of the birds they see on one specific day in one area. Audubon and other organizations use data collected in this longest-running wildlife census to assess the health of bird populations - and to help guide conservation action. We will use a telescope to look at waterfowl on Fresh Pond, and binoculars to see other birds. Beginners are welcome. We have binoculars to lend and will show you how to use them.

Please register for each event that you plan to attend. You will receive information on parking after you register. E-mail Elizabeth Wylde at friendsoffreshpond@yahoo.com or call (617) 349-6489 and leave your name and phone number.

Offered by Friends of Fresh Pond Reservation

Membership in Friends of Fresh Pond Reservation costs only $10 per year ($5 for seniors and students, $15 for families). To join, fill out a membership form available in the Ranger Station information racks, e-mail friendsoffreshpond@yahoo.com, call 617-349-6489, or visit our website at www.friendsoffreshpond.org to download a form.

Keep up to date on events at the Pond. Visit the Friends group website at http://friendsoffreshpond.org to learn more about Friends group activities and the reservation and its inhabitants.

Sign up for the City of Cambridge's informative "Recycling and Composting Newsletter" by e-mailing recycle@cambridgema.gov.
AMC Local Walks/Hikes - Come for a walk or hike with us.
Tues, Dec 3, 2013. Great Streets of Cambridge. Leisurely 4-mi. walk along historic streets around Harvard and Porter Squares and Huron Village , 6:45-8:45pm. Bring snack. Meet outside of Brattle Theatre (lower level). From Harvard Square T Stop, go 1 block west on Eliot Street; take right on Brattle Street (theatre is on the left). Storm cancels. Wear appropriate footwear for conditions. L Mark Hurwitz.
Sat, Dec 7, 2013. Wompatuck State Park, Hingham. 8 mile hike w/lunch at scenic pond, 9:30am. Bring lunch/water/hiking shoes. Rte. 3 Exit 14 to Rte. 228N toward Hingham, 4 mi. to Wompatuck sign, then R on Free St. 1.3 mi. to visitor center pkg. lot. Email if severe weather. L Mike Tuohey.
Sun, Dec 8, 2013. Wayside Inn, Sudbury, MA. 1:00pm-4:30pm. Walk, snowshoe if snow around pond and Wayside Inn conservation land. Meet at the 1st parking lot on L. From Rte. 128 take Rte. 20 W for about 11 mi. until you see the sign for The Wayside Inn. L Gail Zwink.
Sun, Dec 8, 2013. Blue Hills Hike, Quincy. 7-mile Chickatawbut section hike in the wildest and most remote area of the Blue Hills Reservation, 10 am-3:30 pm. Meet at Shea Ice Rink, Willard St., Quincy. From SE Expressway Exit 8 in Quincy, go south 0.6 miles on Willard St. Or from I-93/Route 128 Exit 6 in Braintree, go north 0.7 miles. Or for public transit, take Bus 238 from Quincy Center T station. Joint with Friends of the Blue Hills. L Steve Olanoff.
Sat, Dec 14, 2013. Borderland State Park, No. Easton. Hike 5 mi. on a variety of trails. Meet at 11:00am at the Visitors Center with appropriate footwear for the conditions. Bring water and snack. Take Rte. 95 south (towards Providence), exit 10 (Sharon, Walpole and Coney Street). L at the end of the ramp; follow this road, two or three mi. to the traffic lights in Sharon Center. Go straight thru this intersection and immediately bear right onto Pond St. Follow Pond St. for 1.5 mi. until you come to a traffic rotary. Go half way around the rotary and continue onto Massapoag Ave. 3 mi. to the park entrance on L. For directions, see http://www.mass.gov/dcr/parks/borderland/directions.htm. Rain or storm cancels. L Claire Braye.
Sat, Dec 14, 2013. Holiday Wreaths & Green Boughs, Boston. From 9:30am-11:30am. Admire seasonal decorations in Boston's Back Bay and Beacon Hill. Meet near Park Street T Station (Green Line) at the corner of Tremont and Park Streets. Bring snacks, water. Heavy rain/snow cancels. New members welcome. L Sharon Marshall.
Sat, Dec 14, 2013. Middlesex Fells, Winchester. Evergreens and other easily recognizable plants of winter. Slow-paced nature walk focusing on plant ID in winter and fun natural history. 12:30-3:30pm. Rte. 93 to Exit 33. At Rotary go right onto South Border Rd./Winchester. Two miles to Long Pond Parking Lot on right (opposite #532 South Border Rd). Parking limited, arrive early. Steady rain or heavy snow cancels. [Boot Boutwell is a freelance itinerant naturalist who teaches and leads nature walks for Mass Audubon - Habitat, The New England Wild Flower Society, the Winchester Public Schools, the Friends of the Middlesex Fells, the Appalachian Mountain Club and other organizations.] L Boot Boutwell.
Sun, Dec 15, 2013. Noanet Woodlands, Dover. Hike with ponds and views. 9:30am-12:30pm. Bring snack/water. From Needham Center take Chestnut St. for 1.5mi. to end. Bear R on Dedham St. & go 1.5mi. to pkg. lot on L at tennis courts. Rain cancels. L Henry Gardner.
Sun, Dec 15, 2013. Wharton Plantation, Groton. 1:00pm. Come explore the Rocky Hill section of the NEFF Wharton Plantation and adjoining conservation lands. This features streams, beaver ponds, upland forest, and all-around pretty woods. Meet at the Dan Parker Rd. entrance on Rocky Hill Rd, 42.62776N 71.52350W. About 2 hours. L Olin Lathrop.
Sat, Dec 21, 2013. Neponset River Greenway/Milton Hill. 5-mile walk along Neponset River to Hutchinson Field, 9:30am-12:15pm. Bring snack. Meet at Hallet Street entrance to Pope John Paul II Park. From Route 93N, take exit 11 (11B from Route 93S) to Granite Avenue, north over Neponset River, immediate right on Hilltop Street, right under bridge into parking lot. E-mail if severe weather. L Mike Tuohey.
Sun, Dec 22, 2013. Little Blue Hill Nature Hike, Canton. 3-mile nature walk in this little-known section of the Blue Hills Reservation to look for signs of birds and animals in winter, 10 am-noon. From I-93/Route 128 Exit 2B, take Route 138 north to rear of the Park-&-Ride lot on left just after Dunkin Donuts. Joint with Friends of the Blue Hills. L Steve Olanoff.
Episodes of Cambridge InsideOut (The Sequel)
Episode 1 (Sept 10, 2013, 5:30pm) of "Cambridge InsideOut - The Sequel" featured PR voting in Cambridge
Episode 2 (Sept 10, 2013, 6:00pm) of "Cambridge InsideOut - The Sequel" introduced this year's municipal election candidates
Episode 3 (Sept 17, 2013, 5:30pm) of "Cambridge InsideOut" addressed some of the Big Issues in the City Council election
Episode 4 (Sept 17, 2013, 6:00pm) of "Cambridge InsideOut" addressed some of the Big Issues in the School Committee election
Episode 5 (Sept 24, 2013, 5:30pm) of "Cambridge InsideOut" features guest Anthony Galluccio (Part 1)
Episode 6 (Sept 24, 2013, 6:00pm) of "Cambridge InsideOut" features guest Anthony Galluccio (Part 2)
Episode 7 (Oct 1, 2013, 5:30pm) of "Cambridge InsideOut" features phone interviews with City Council candidates (Part 1)
Episode 8 (Oct 1, 6:00pm) of "Cambridge InsideOut" features phone interviews with City Council candidates (Part 2)
Episode 9 (Oct 8, 2013, 5:30pm) of "Cambridge InsideOut" features visits from School Committee candidates Elechi Kadete and Patty Nolan
Episode 10 (Oct 8, 2013, 6:00pm) of "Cambridge InsideOut" features visits from Cambridge School Committee candidates Patty Nolan and Joyce Gerber.
Episode 11 (Oct 15, 2013, 5:30pm) of "Cambridge InsideOut" with guest Alice Wolf (Part 1)
Episode 12 (Oct 15, 2013, 6:00pm) of "Cambridge InsideOut" with guest Alice Wolf (Part 2)
Episode 13 (Oct 22, 2013, 5:30pm) of "Cambridge InsideOut" with guest Jesse Kansen-Benanav (Part 1)
Episode 14 (Oct 22, 2013, 6:00pm) of "Cambridge InsideOut" with guest Jesse Kansen-Benanav (Part 2)
Episode 15 (Oct 29, 2013, 5:30pm) of "Cambridge InsideOut" with City Council candidates Dennis Carlone and Dennis Benzan
Episode 16 (Oct 29, 2013, 6:00pm) of "Cambridge InsideOut" with City Council candidates Denise Simmons and Minka vanBeuzekom
Episode 17 (Nov 12, 2013, 5:30pm) of "Cambridge InsideOut" - A detailed look at the 2013 Cambridge election results and possible recount
Episode 18 (Nov 12, 2013, 6:00pm) of "Cambridge InsideOut" - Boulder vs. Cincinnati vs. Fractional transfer methods in Cambridge's PR elections
Episode 19 (Nov 19, 2013, 5:30pm) of "Cambridge InsideOut" - Notes on a possible Recount
Episode 20 (Nov 19, 2013, 6:00pm) of "Cambridge InsideOut" - On Vacancies and Cambridge Boards & Commissions
Episode 21 (Nov 26, 2013, 5:30pm) of "Cambridge InsideOut" with guest Marjorie Decker
Episode 22 (Nov 26, 2013, 6:00pm) of "Cambridge InsideOut" - Analyzing the ballot data
Episode 23 (Dec 3, 2013, 5:30pm) of "Cambridge InsideOut - The Recount Commences
Episode 24 (Dec 3, 2013, 6:00pm) of "Cambridge InsideOut" - Looking Deeper at the Ballot Data
Watch it on CCTV every Tuesday at 5:30pm and 6:00pm. The co-hosts are Susana Segat and Robert Winters.
5:00pm Special Presentation - First Annual Cambridge Volunteer Appreciation Day (Sullivan Chamber)
5:30pm City Council Meeting (Sullivan Chamber)
There's not a whole to say about this meeting, but some comments will likely follow late Sunday or on Monday morning. Here are a few items possibly worthy of comment:
Order #3. That the City Council go on record urging Kevin Sheehan, representative of Boston Properties, to meet with representatives of Unite Here Local 26 to address concerns over the size, scope and precedent of mixed-use development by Boston Properties at the site adjacent to the Boston Garden. Councillor Cheung and Vice Mayor Simmons
Order #4. That the City Manager is requested to confer with the Assistant City Manager of Community Development to ensure that the City of Cambridge is aware of transportation and pedestrian improvements being discussed or planned along the Webster Avenue corridor so that any future changes in this area within Cambridge will complement a regional plan. Councillor Toomey
Committee Report #1. A communication was received from Donna P. Lopez, City Clerk, transmitting a report from Councillor Leland Cheung, Chair of the Neighborhood and Long Term Planning Committee, for a public meeting held on Oct 16, 2013 to discuss ending homelessness in Cambridge with the Senior Policy Group on Homelessness.
Cambridge Public Library Holiday Book Drive
The Cambridge Public Library (CPL) is collecting donations of new books to give to children who are living in Cambridge shelters and transitional housing during the holidays.
The Cambridge Public Library and Porter Square Books partner annually to provide a holiday gift to children from birth through high school. In 2012, we were able to give 465 children at the Hildebrand Family Self Help Center, Transition House and the YWCA children the gift of a book.
Donations will be accepted through Dec 31, 2013 at all Cambridge Public Library locations and at Porter Square Books, which also offers a 20% discount on books for this project.
For more information, call 617-349-4040 or visit CPL's website, www.cambridgepubliclibrary.org.
---
It Makes a Difference Whose Ox is Gored
Nov 20 - It was an interesting Election Commission meeting tonight. I finally learned definitively when Cambridge adopted the Cincinnati Method for surplus ballot distribution for the PR elections (Sept 20, 1973 by unanimous vote of the Election Commission). I had convinced myself at some point that the switch had been made in the early 1970's, so it was great to see that this was indeed the case. However, that wasn't the most interesting thing that occurred at the meeting.
The major order of business at this meeting was to consider the petition for a recount submitted by Minka vanBeuzekom. Now it should be obvious to any rational person that when an election is as close as the recent City Council election, a recount should be automatic. That's really the only way to be absolutely certain that voter intent was reflected in the election results. Nonetheless, two of the official winning candidates (Carlone and Mazen) were there arguing against Minka's petition for a recount. One of them (Carlone) even had a lawyer there doing everything he could to prevent a recount. I have no doubt whatsoever that had there been a different ordering of the candidates at the end of the decisive 16th Count, one of these candidates would be the one petitioning for a recount. Apparently the old adage is true - it really does make a difference whose ox is gored. And I'm sure they'll all be telling us next year about how much they value "true democracy".
The Commission voted unanimously that the recount will proceed. There will be a hearing next week (Tues, Nov 26 at 5:30pm in the Sullivan Chamber) to receive testimony from people and to lay out plans for the recount which is expected to take place after the Thanksgiving holiday. - RW
---
Hubway to Pilot Year-Round Program in Cambridge
Cambridge-based Hubway Stations to Remain Available throughout Winter
Hubway, the metro-Boston area's public bike share system, will continue to be available to riders throughout winter at almost all Cambridge-based stations. While Hubway has always operated on a seasonal basis in its two and a half year history, this year the City of Cambridge is piloting a plan to provide year-round Hubway service.
"We are pleased at the opportunity to pilot Hubway service year-round," said Cambridge City Manager Richard C. Rossi. "We're committed to supporting sustainable transportation options, and we are excited to continue the program this winter season. We do ask for everyone to use care when riding under winter conditions and also request your patience and understanding as we work with whatever nature brings us in terms of weather."
Almost all stations in Cambridge will remain operational throughout the winter, though the station at Lafayette Square/Main Street will be removed from the street for the season. The Lechmere station will be moved to the sidewalk just east of Lechmere Station. All station updates will be posted on the station map at www.thehubway.com/stations, www.hubwaytracker.com, and on the Spotcycle app for smart phones, www.spotcycle.net. Annual members may continue to use the Cambridge stations during the season at no additional cost. 24-hour, 3-day passes and monthly passes will be available for purchase as usual.
As part of the pilot program, snow removal will become part of the daily responsibilities of the Hubway field team. The team, coordinated by Hubway's dispatch office, is on the street from 6am–10pm every day, and is stocked with equipment to keep stations clear of snow and ice.
Users should bear in mind that the regular seasonal closing of stations in Boston, Brookline and Somerville city/town limits will begin as early as Monday, Nov. 18. Most stations will remain open through Wednesday, Nov. 27. Station closures will be posted in advance on Hubway's website at www.thehubway.com/news, on Twitter at www.twitter.com/hubway and on Facebook at www.facebook.com/Hubway.
During extreme inclement weather conditions, Hubway may temporarily close the system and public announcements will be made via social media and the Hubway website. Station alerts will also be emailed to annual and monthly Hubway members, and all riders can consult the Spotcycle app to learn whether or not bicycles are available. In the event of a system closing, riders will be able to return bikes to all stations securely, but will not be able to check bikes out.
To prepare for cold-weather bicycling, there are a number of things riders should keep in mind:
Wear layers, but remember that riding will warm you up. If you get hot as you ride, pull over and remove a layer, but always keep your ears and hands shielded.
Local bike shops offer bike-appropriate gloves and earmuffs that do not obstruct the use of your helmet.
Plan your route ahead of time.
Always plan for an alternative mode of transportation in case a blizzard hits or if you simply decide that riding is no longer comfortable for you.
Each rider has a different comfort level in inclement weather. If you are uncomfortable for any reason while biking, stop riding and walk your bike to the nearest docking station. If you are cold, make your way indoors to warm up.
Be aware that visibility is particularly limited during the winter, with fewer daylight hours, glare and foggy conditions. Hubway bikes have 24-hour lights, but it is also a good idea to wear light colored clothing and reflective materials if possible.
Use extra caution under wintry conditions, as roads may not be completely cleared of snow and ice. You are always permitted to ride in the general travel lane (not only the bike lane) and should do so if the bike lane is snowy or icy.
Find out more about the Hubway system, extensions, station outages/closures at www.thehubway.com, on Twitter at www.twitter.com/hubway, and on Facebook at www.facebook.com/Hubway.

Pumpkins OK in Yard Waste
11/21 Recycling Tour: Sign Up!
New "Take It Back" Google Map
Quick Tips to Reduce Packaging & Food Waste
Gift Ideas! More Fun, Less Stuff
Pumpkins OK in Yard Waste
After Halloween, pumpkins are accepted with yard waste for curbside collection. But, consider cooking your pumpkins! Chop it and roast in the oven or steam/puree it to use in delicious roasted breads, soups, cookies, pies and more…  Remember that separate yard waste collection ends the week of Dec 9-13, 2013 and begins again in the spring. Place yard waste in paper yard waste bags OR loose in barrels with city stickers, facing the street. Do not staple or tape yard waste bags. No plastic bags. Recycle leaves, grass and small twigs and branches (no more than 1 inch in diameter or 3 feet in length). Bundle thick tree limbs 3ft x 3ft. Place yard waste at the curb by 7am on collection day or after 6pm the night before. For stickers, order them online, call DPW, or stop by the office.
11/21 Recycling Tour: Sign Up!
There's still plenty of room for Cambridge residents and City employees to sign up for the tour of the Casella recycling facility in Charlestown on Thursday, November 21 in the morning. No children under 16. The tour lasts about 2 hours and involves walking on narrow catwalks and stairs, close to heavy equipment. You must be walk at a steady pace with a group. We meet at DPW and carpool, so let us know if can drive and how many people you can take. Email recycle@cambridgema.gov to sign up and we'll send you more info.
New "Take It Back" Google Map
Check out our newest Google map that shows businesses that "Take It Back", including products and packaging for recycling, composting, or reuse. These retailers and manufacturers are leaders in their industry by demonstrating product stewardship, setting a great example of responsible business practices. Different colored pins on the map show different types of products such as food scraps, packaging, household items, eyeglasses, books, electronics, fluorescent bulbs, batteries, bikes, and car parts. Product stewardship, or Extended Producer Responsibility (EPR) is "the act of minimizing health, safety, environmental and social impacts, and maximizing economic benefits of a product and its packaging throughout all lifecycle stages." Click here to view our widely popular Donate Your Stuff map that shows where to donate and recycle clothing, textiles, furniture and more.
Quick Tips to Reduce Packaging & Food Waste
When you avoid making garbage in the first place, you don't have to worry about disposing of waste or recycling it later. Changing your habits is key. There's a ton of ways you can reduce your waste when you shop, work and play. When you reduce waste, you can save some time and money, and be good to the Earth.
Quick tips to reduce packaging:
Choose products with minimal packaging, the least materials, or none at all.
Buy the largest size practical, if you'll use it and can store it.
Drink tap water instead of bottled water. Cambridge water is safe and healthy. 
Buy concentrates instead of liquids, like frozen juice or powdered detergent.
Say "no bag, thanks" whenever you can, and bring your mug.
Quick tips to reduce food waste:
Make it Last. Storing your food the right way in your fridge, freezer, and cupboard will keep it fresh longer.

Portion and Plan. Plan meals, write (and stick to) a shopping list. Get your portions right and eat the food you buy.
Love your Leftovers. Use leftovers for lunch or a base for a new meal. Use up produce in smoothies, soups, frittatas, and casseroles.
Gift Ideas! More Fun, Less Stuff
Starting to think about gifts for the holidays? Let's make celebrations less focused on stuff and more about family, fun, and friends. We can give handmade, secondhand, nonmaterial, and truly meaningful gifts. After all, your favorite gifts don't always fit in a box. Events should be joyful and meaningful and not occasions that generate stress, waste, and debt.
Give experience gifts (tickets to a show, gift certificates for dinner, massage, or museum).
Give gifts of time (babysit, make dinner).
Donate to a charity or non-profit in their name.
Do It Yourself (DIY). Make a something old something new. Use the comics as gift wrap.
Give others a "gift exemption card".
For great ideas check out two resources by the Center for a New American Dream: Simplify the Holidays Guide and SoKind, a new online, customizable registry that's user friendly, visually appealing and fun. You can create a personalized registry to make any celebration truly unique and meaningful by asking for gifts of time, experience, and skill, as well as traditional material gifts and secondhand items.
---
Take the 50% recycling pledge today at www.cambridgema.gov/recycle and get a free sticker!
Recycle More. Trash Less.
---
---
Cambridge 2013 Election Count (in case you missed it)
Just in case you missed the live broadcast of The Count on Tues, Nov 5, the good folks at CCTV have now uploaded it in 3 parts for your viewing pleasure (not to suggest that will be your reaction, of course!). You'll find the program (hosted by Susana Segat and Robert Winters) at: http://cctvcambridge.org/electioncount2013.
---
Voter Registration and Absentee Ballots for the Special State Election, December 10th
The Special State Election will be held on Tuesday, December 10, 2013 for the office of Representative in Congress for Massachusetts 5th Congressional District to fill the vacancy caused by the resignation of Representative Edward Markey. For Cambridge residents not already registered, the last day to register to vote is Wednesday, November 20, 2013 until 8:00pm. The polls will be open on Election Day from 7:00am until 8:00pm.
Absentee Ballots are now available for the Special State Election at the Cambridge Election Commission office. Any voter who is unable to go to the polls on Election Day due to physical disability, religious belief, or absence from the city may request an Absentee Ballot from the Commission. The deadline to apply for an Absentee Ballot is Monday, December 9, 2013 at noon. Absentee Ballots may be mailed to voters, or such voters may choose to vote at the Commission office during regular city office hours: Monday, 8:30am-8:00pm; Tuesday-Thursday, 8:30am-5:00pm; Friday, 8:30am-Noon. The office will also be open for Absentee Voting on Friday, December 6, 2013 from 8:30am until 5:00pm.
For any additional information, please visit the Cambridge Election Commission office at 51 Inman Street, call (617-349-4361) or visit our website at www.cambridgema.gov/election.
CRLS Alumni Association Project Announces
First Annual Alumni Meeting and 2013 Homecoming Events
Nov 10 - The CRLS Alumni Association Project has been building support for the launch of an Alumni Association for all graduates and staff from Cambridge Rindge & Latin School, Rindge Tech, and Cambridge High & Latin School and has collected over 600 signatures supporting this effort. On Friday, Nov. 29 there will be the First Annual Alumni Association Meeting from 11:00am-12:30pm at CRLS. A interim Alumni Board will be selected. The meeting is open to all graduates and retired staff of CRLS, Rindge Tech, and CHLS. Tours of the renovated high school will also be available before the meeting starting at 10:00am and after starting at12:30pm.
The CRLS Alumni Association Project has also announced a series of Homecoming 2013 Events. All Alumni, staff and families from CRLS, Rindge Tech and CHLS are welcome:
Nov 27 - Open House at CRLS from 10:00am to 12 Noon with tours of the new facilities and meeting with Principal Damon Smith
Nov 27 - Alumni Reunion Night at Tommy Doyle's, 8:00pm until closing. Free Hors D'oeuvres from 8-10:00pm. Cash Bar. All classes, all schools and guests welcome! Tommy Doyle's, 96 Winthrop Street
Nov 28 - Pre-game Tailgate and Football Game vs. Somerville. Hospitality starts at 8:30am. Kickoff at 10:00am at Russell Field
Dec 6 - The Fall Musical "Rag Time" at 7:00pm. Alumni are encouraged to attend the Friday night performance at the CRLS Fitzgerald Theater. Reception immediately following performance in the Media Café at CRLS.
Please register for events (most are free) at: crlshomecoming2013.eventbrite.com. For more information about any of these events please contact Andy Farrar at 978-764-7566/af@handsontoys.com or David Vogel at davidgvogel@yahoo.com.
originally published in the Cambridge Civic Journal on Feb 12, 1998
---
Urban design team selected; MIT and Cambridge community meetings set
Community meetings
"A critical component of the work ahead will be to collect valuable input from the MIT and Cambridge communities," said Executive Vice President and Treasurer Israel Ruiz, who was actively engaged in MIT's three-year Kendall Square rezoning process, and has remained involved in the exploration of Kendall Square and East Campus design concepts. "I'm delighted that an undergraduate student and a graduate student are serving on the steering committee that is guiding the East Campus/Kendall gateway study."
Three MIT community forums are planned to gather feedback on the process, goals, planning principles, and early concepts of the urban design effort. In a similar fashion, three Cambridge community forums will also be held. The meetings will each provide the most up-to-date information at the time:
MIT community forums
Thurs, Nov 7, 5:30 to 7pm (Room 3-270)
Wed, Dec 11, 5:30 to 7pm (Room 32-155)
Tues, Jan 21, 5:30 to 7pm (Location TBD)
Cambridge community forums
Thurs, Nov 14, 5:30 to 7pm (Room 4-153)
Thurs, Dec 12, 5:30 to 7pm (Room 56-154)
Wed, Jan 22, 5:30 to 7pm (Location TBD)
Here's an update of the scoreboard of activity of the individual city councillors for the current term. Though there are other matters that occupy the time of these elected officials, the records of committee attendance and the number and type of City Council Orders and Resolutions introduced are two objective measures for which data is readily available. Here are the figures through Oct 21, 2013:
City Council Committee meetings
chaired and attended (2012-2013)


through reports of Oct 21, 2013

Councillor
Chaired
Attended
vanBeuzekom
9
96
Cheung
23
79
Kelley
13
69
Simmons
6
53
Davis
Mayor chairs all
Council and School
Committee meetings
48
Maher
36
46
Reeves
4
39
Toomey
6
31
Decker
15
30
Total Committee Meetings: 108

Council Orders and Resolutions:
Combined 2012-2013
through Oct 21, 2013
incl. late orders through Oct 21, 2013
2012-2013
P
I
R
M
D
C
A
F
Cheung
85
55
8
42
15
368
7
7
Davis
36
13
18
4
49
338
17
3
Decker
22
8
4
1
16
118
2
2
Kelley
10
28
8
18
3
14
2
0
Maher
9
4
18
4
221
90
1
0
Reeves
18
5
2
6
44
161
3
2
Simmons
36
16
7
15
43
245
11
4
Toomey
23
25
6
19
218
121
3
0
vanBeuzekom
57
44
10
18
3
35
2
2
Total
250
175
75
119
509
1304
46
17
Total Orders and Resolutions: 2495

The distribution of Orders and Resolutions by city councillors can provide insight into how they approach their job and how they spend their time and staff resources.

P - Policy orders

I - Requests for information from the City Manager and City departments

R - Rules and procedural items, such as the scheduling of hearings

M - Maintenance orders: fixing things, putting in stop signs, potholes, traffic, etc.

D - Death resolutions

C - Congratulations, get-well wishes, birthdays, naming of street corners, etc.

A - Announcements of upcoming events, holidays, proclamations, etc.

F - Foreign and national policy matters
Year-by-year and current totals can be found on the City Council page. More detailed information on each City Council committee can be found on the City Council Committees page (including links to each committee report).
---
---
All's fair in love and war and politics
Well, actually no. There are time-honored traditions in Cambridge municipal election campaigns - some based on tradition and basic courtesy, some based on the law, and some based on the practical politics of elections conducted using Cambridge's proportional representation (PR) system with its transferable ballots. Here are some rules, regulations, courtesies, and practical suggestions for running a proper PR election campaign in way that will earn you friends and help you to not make enemies.
Don't engage in negative campaigns. Unless you plan on sailing past the election quota with a surplus of #1 votes, you may need those transfer ballots from defeated candidates. If you attack another candidate whose supporters might have also liked you, then those voters may not list you as a next preference on their ballots. You may need those transfers, so if you must be critical try to be decent about it.
Introduce the competition. There is a long history of candidates attending campaign events for other candidates. Everybody benefits from this and it's a necessary part of our election system where voters can rank as many candidates on their ballot as they please. If another candidate is very popular and earns a surplus of votes, you may want a share of those transferred surplus ballots. More significantly, if that other candidate is defeated while you're still in the running, you will definitely want to be a beneficiary when all of that candidate's ballots become available for transfer. This is one of the most important facts about PR elections. On the other hand, if you see a viable candidate, particularly an incumbent, coming to all your events, you may have every reason to believe that he is rooting for your defeat so that he can get your ballots. So....
Be skeptical of other candidates trying too hard to be your "friend." There's a good chance that your new friend will be nudging you toward defeat while staying ahead of you in the Count. These new friends will usually be incumbents, but not always. On a positive note, some of your fellow candidates will become your good friends for decades to come. The shared experience of a political campaign can be a bonding experience. It can also leave hard feelings that may never go away.
Don't steal the spotlight. If you attend the campaign events of other candidates, and you definitely should do this with candidates who have any sort of common appeal, you should never do any overt campaigning at another candidate's event other than asking for a #2 vote behind the featured candidate. You should always be mindful of when it's appropriate to campaign and when it's not appropriate. Voters recognize and respect courtesy.
Those who try to assemble slates of candidates do this for themselves - not for you. That said, you might still derive benefits from being on a slate of candidates, especially if the slate is the invention of the candidates and not of some organization with their own agenda. The Cambridge Civic Association (CCA) successfully used slates of endorsed candidates from the 1940s through the end of the 20th Century to help elect candidates who might not necessarily have won with independent campaigns. It can be very effective, but you should probably be very skeptical of any group who promises you the world for being on their slate. It can also hurt you to be associated with an unpopular group.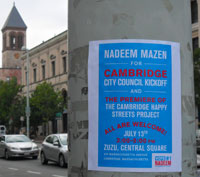 Don't put your flyers, bumper stickers, or any other campaign materials on utility poles, mailboxes, or any other location other than private property. Not only is this illegal, it is guaranteed to infuriate your fellow candidates. Voters also tend to respond negatively to this kind of aggressiveness. Bear in mind that it's usually not the candidates who do this, but their loyal and overly zealous supporters. So... instruct your supporters to not do you any favors like this. If you discover any of your campaign stuff in places they don't belong, remove it promptly.
Find your base. Every successful candidate builds his or her campaign on a base of voters who are most likely to cast their #1 votes for that candidate. If you have no base and think you can win on some kind of "broadcast" campaign where you deliver your brilliant message to a rapt audience who swoon on the magnificence of your words, think again. Most voters will cast their ballots based on some kind of affinity with a candidate. This might be based on some pressing issue of the day or the promise of great new ideas, but it is more likely that the basis will be such things as living in the same neighborhood, sharing some racial or ethnic heritage, sharing the same gender or sexual orientation, having attended high school together, or having spent time in the same places. Once you have identified your base of most likely voters, you can build from there.

Signs don't vote. This is one of the oldest sayings in Cambridge politics and probably everywhere else. During the days of rent control, this was especially true since landlords would often post signs outside their building even if all the tenants in the building were voting for the other candidates. It's probably a good idea for new candidates to display some signs and bumper stickers just to get their names out in public. Like it or not, many voters will comment after an election that they never heard of you even if your name was on the ballot.
Spend your money wisely. There are some horror stories of Cambridge candidates who were essentially unknown who spent considerable money on citywide mailings to every registered Cambridge voter and who received fewer votes than the number of signatures on their nomination papers, i.e. less than 50. If you find yourself spending several hundred dollars per #1 vote, you are definitely doing something terribly wrong. Campaigns are not generally cheap, but you have to use your resources wisely by identifying your most likely voters and strategically going after them. This means maintaining a good database and making effective, repetitive contact with your most likely voters. As the story told by Tip O'Neil goes, "people like to be asked." There are some incumbent candidates who run very effective campaigns on a shoestring budget.
Be consistent. If you tell one voter how you feel about some controversial matter and then tell another voter something that contradicts this, you can generally count on those two voters or other voters eventually discovering your inconsistency. The last thing you need in a local election is for the word to spread that you're dishonest. So just be truthful even if you think it might lose you a vote. You will likely make up for that with the votes of other people. If you choose to tell people only what you think they want to hear, they will see through you like clear glass - and they will also likely vote for another candidate who more sincerely agrees with them.
Above all, be a human being. Never forget that most voters will vote for candidates who they see as representative of themselves, and most people have primarily positive views of themselves. If you come across as arrogant, you will only earn the votes of arrogant voters. If people see the humanity in you, this will always work to your benefit. It will also be a lot easier to live with yourself - regardless whether you win or lose the election.
Any additions? - Robert Winters
April 2 - Well, that was fun. Thanks to everyone for being such a sport on April Fool's Day.
---
THE TASTY DINER of HARVARD SQUARE - A film by Federico Muchnik (33½ minutes)
FYI - Current Rules and Goals: Cambridge City Council & Cambridge School Committee
---
---
June 7, 2009 - Once upon a time there was a civic organization in Cambridge known as the Cambridge Civic Association (CCA). It was formed in 1945 out of several organizations that had been existed through the 1930s and that had lobbied the state legislature to create the Plan E Charter option (1938) which featured a city manager form of government and proportional representation elections for city council and school committee. These reforms were central to model charter reform movements active in the United States from the early 1900s. The central theme of the CCA in its early days was "good government" in the sense of being anti-patronage and for professionally managed local government. This changed with the introduction of rent control at the end of the 1960s after which the CCA shifted leftward and became permanently lashed to the mast of the rent control vessel. Though the CCA still exists on paper (I believe), it rapidly declined after the statewide abolition of rent control (late 1994) and essentially disappeared a decade later (early 2005).
I bring up the ghost of the CCA today only to point out that when it was created it had some very admirable goals. Here's the original Mission Statement of the CCA:
Purposes: This association is formed for the following purposes:
1. To promote businesslike, honest, and efficient conduct of local government, open to public scrutiny.
2. To induce residents to take an active interest in the affairs of the City of Cambridge.
3. To encourage and support the candidacy of men and women seeking election to public office and to support intelligent, wholesome leadership in public affairs.
4. To assure that the best qualified persons are appointed to positions in the City government after consideration of all qualified candidates.
5. To promote among the citizens of Cambridge equitable distribution and benefit of public services and equal opportunity for economic security, education, and social advancement.
These are pretty good founding principles for a civic organization and I'm tempted to say that some should be incorporated into the recently adopted City Council's Goals for FY2010 (adopted Feb 2, 2009). In fact, of the 22 current goals, the only one that comes close is: "An increased level of recruitment and opportunities for membership on boards and commissions." The current Council goals emphasize things like "fostering community" via block parties and such, though one has to wonder if the City should be promoting these activities or just getting out of the way so that people can foster community on their own. The goals also seem to put some emphasis on developing "successful nightlife campaigns" while mentioning nothing about promoting ordinary "daytime" economic activity that supports the everyday needs of residents.
One founding principle of the CCA that fell into disuse over the years is listed above as #3: To encourage and support the candidacy of men and women seeking election to public office and to support intelligent, wholesome leadership in public affairs. Indeed, I can personally testify to the fact that in its dying years the only reason the CCA made endorsements at all was because the CCA-endorsed incumbents wanted the benefit of having an advertised CCA slate of candidates that would help secure their reelection. There was precious little effort to recruit new candidates or to support them. Today, the benefits of incumbency are greater than ever. The cost of political campaigns have become absurdly high and most of the incumbents now have (City paid) staff who are inevitably political appointees who directly or indirectly assist in the reelection efforts of their bosses. The deck is increasingly stacked against challengers. Furthermore, the salary and benefits for elected councillors are now so sweet that it is unlikely that any of them would ever want to move on to another job.
With this background in mind, I would like to encourage all Cambridge residents to help level the playing field by finding out about this year's challengers for seats on the Cambridge City Council and the Cambridge School Committee. This is not meant as a dig against any particular incumbent as much as an appeal to support the challengers in what is a difficult and laudable effort. Please see the Cambridge Candidate Pages for the current list of expected candidates. Then use your own judgment - don't expect me or anyone else to do it for you.
Speaking of this year's municipal election, there are some activists who are now expending great effort to attack the City Manager and most of the current City Council. That is not nor has it ever been the intention of the Cambridge Civic Journal or its editor. Candidates are now being seduced by financial promises from one angry fellow with a Brattle Street address and a basketful of grudges. Former CCA Executive Board members from its darkest and most manipulative days are oozing up from the civic swamp trying to at last make good on their failed campaigns of the early 1990s to oust city manager Bob Healy.
It's entertaining to watch people who have primarily earned disrespect in their civic efforts try to capitalize on the recent Monteiro jury decision as a means of realizing their decades-old vendettas. Conveniently forgotten in their recent letters to Cambridge's "oldest weekly newspaper" are the many achievements of City Manager Bob Healy, the strong financial position of the City, and the recent 8-1 vote of confidence bestowed upon Mr. Healy in granting him a three year contract extension. Also missing in this testimony is the fact that virtually all affirmative action in the hiring of employees and department heads has taken place on Mr. Healy's watch. These letters also fail to divulge how long these writers have been carrying their jealousy and anger toward Mr. Healy for actually orchestrating progress in Cambridge while the best they could ever do is snipe from the sidelines. - Robert Winters
---
This Old Land of Cambridge - The true story of the geological history of Cambridge - by George Ehrenfried
Sadly, George passed away (Jan 5, 2010) at the age of 96. He led many a geology-themed hike with the AMC Local Walks/Hikes.
Pen Portraits of Prominent People - by Henry J. Mahoney Editor, Cambridge Sentinel - 1923
This book was published c. 1923 and features very witty one-page "pen portraits" (with photo) of prominent Cantabrigians of the day. I'll be adding names alphabetically as time permits. There are 182 portraits in the book.
It comes to mind that there may be some value in expanding these profiles to other prominent Cantabrigians who arrived on the scene after 1923, including prominent Cantabrigians of today. With this in mind, I extend the invitation to any and all who may wish to contribute their own "pen portraits" of Cambridge people. Contributions do not necessarily have to be in the style of Mr. Mahoney. Inclusion is, as always, subject to the erratic discretion of the editor.
Special thanks to Karen Welch for sending me the book. - RW
---
Cambridge School Volunteers is looking for people who can give one to two hours per week to help students in the Cambridge Public Schools, grades K through 12. No experience necessary. Call 617-349-6794 or e-mail csv@cpsd.us for more details.
Oliver Wendell Holmes – Morning Exercises of December 28, 1880
As recorded in the book 250th Anniversary of the Settlement of Cambridge (1881)
---


Robert Winters, Editor
Cambridge Civic Journal
(about me - updated!!)




The Cambridge Civic Journal is an independent newsletter of civic affairs in the City of Cambridge, Massachusetts. It is published as a public service by Central Square Publications. All items are written by Robert Winters unless otherwise noted. [Of course, I do sometimes forget.]

Thoughts for these times:
Men never do evil so completely and cheerfully as when they do it from religious conviction. -- Blaise Pascal

''This is our fucking city, and nobody is gonna dictate our freedom. Stay strong.'' -- David Ortiz
Subscribe to the Cambridge Civic Journal.
Specify in your message whether you wish to receive each new e-mail version or if you wish to be notified when the online versions are available at this web site. Under no circumstances will the subscription list be made available to any third party.
"The Number One thing I would emphasize is that journalists and bloggers would do well to see themselves as partners in the provision of information and that each can benefit greatly from the other. I've never seen this as a competition. It is especially true these days that local papers and young journalists are not very well-versed in the communities they serve. Much of the institutional memory has either died out or been bought out." -- Robert Winters, mathematician and creator of the Cambridge Civic Journal, an online publication about Cambridge, MA (rwinters.com)
Jorkin: "Come, come, Mr. Fezziwig, we're good friends besides good men of business. We're men of vision and progress. Why don't you sell out while the going's good? You'll never get a better offer. It's the age of the machine, and the factory, and the vested interests. We small traders are ancient history, Mr. Fezziwig."
Fezziwig: "It's not just for money alone that one spends a lifetime building up a business, Mr. Jorkin…. It's to preserve a way of life that one knew and loved. No, I can't see my way to selling out to the new vested interests, Mr. Jorkin. I'll have to be loyal to the old ways and die out with them if needs must."
Scrooge: "I think I know what Mr. Fezziwig means, sir."
Jorkin: "Oh, you hate progress and money, too, do you?"
Scrooge: "I don't hate them, sir, but perhaps the machines aren't such a good thing for mankind, after all."
Memorable scene in "A Christmas Carol"